I have no idea what's going to happen.
In one month, my wife and I are moving together onto a boat. It's a 30-foot, 30-year-old sailboat that we will make our home and take down the Columbia river, down the coast, into Mexico and an unimagined beyond.  We will live on the sea as pioneers once did on the prairie, in colonies on new lands, as gypsies living on the kindness of the world.
And she has to love it.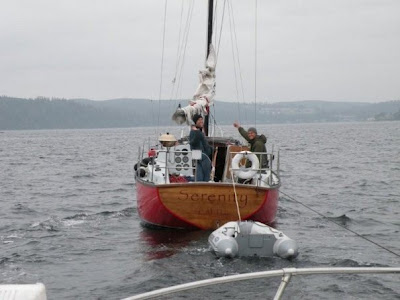 This is us towing not one, but two powerboats on the Puget Sound.
But first comes the challenge of turning the boat into a home. Serenity has been many things since we bought her almost four years ago. First she was my eccentric home in the city, then our romantic cabin on the water in the San Juans, our social day sail outing prop, our school where we learned about each other. Then she was my private place and my workshop. But to be a home is something different. It must be clean. It must be comfortable. It must smell nice. Our asses should never be sore. It must have space to carry and sustain the tools of our individual hobbies. We have to trust her.
I'm Jeff. She's Harmony. And this is where it starts.