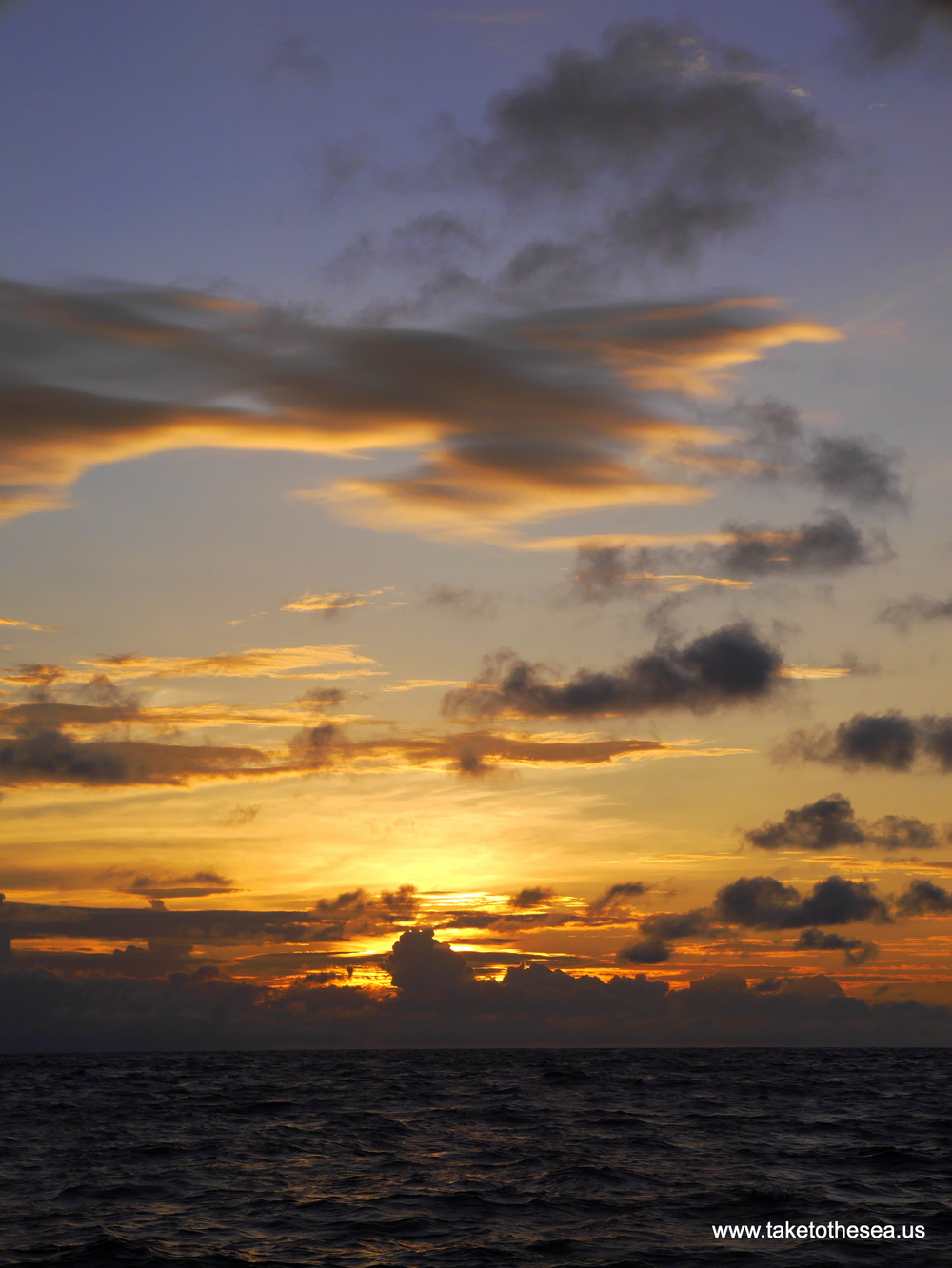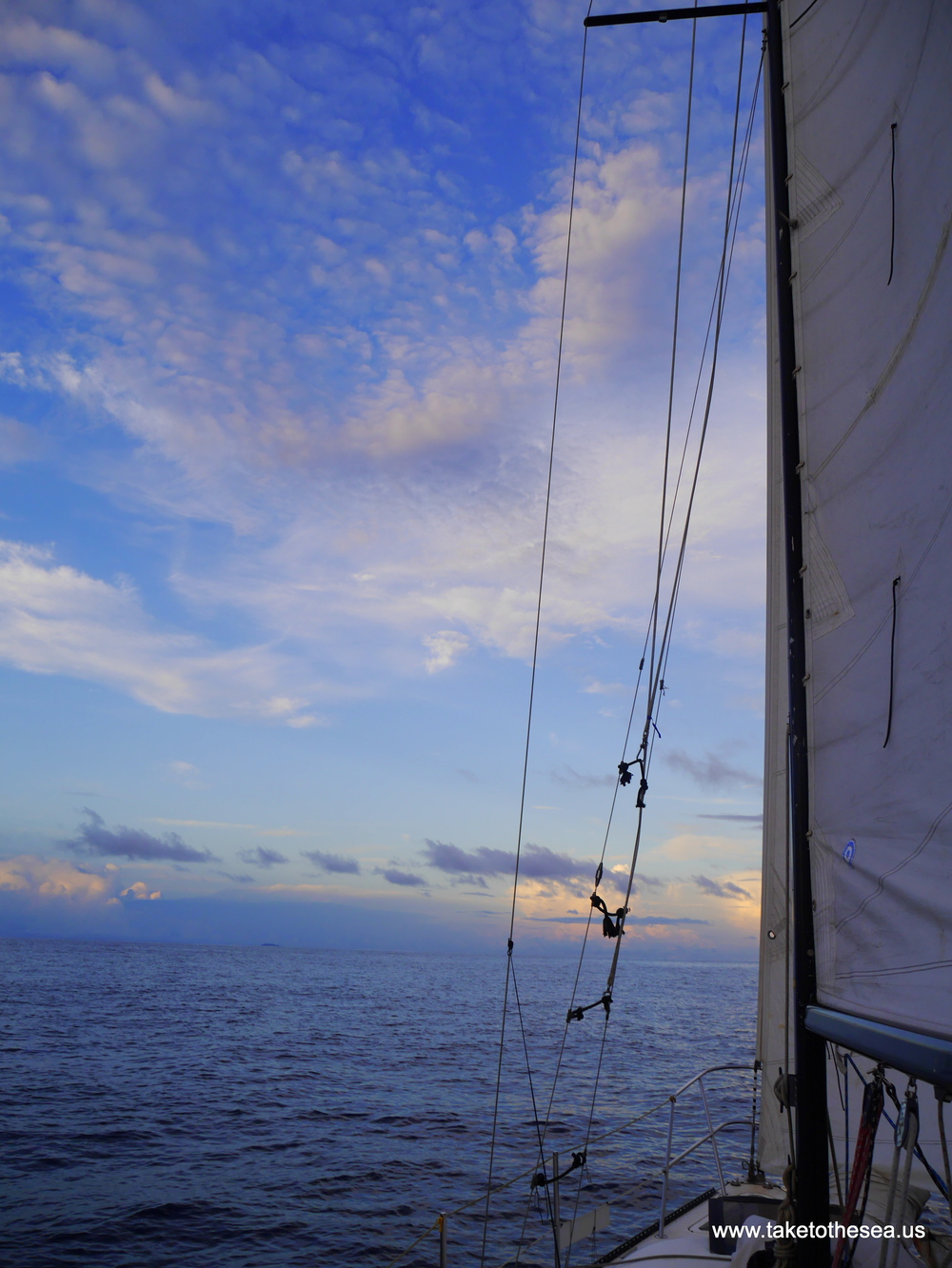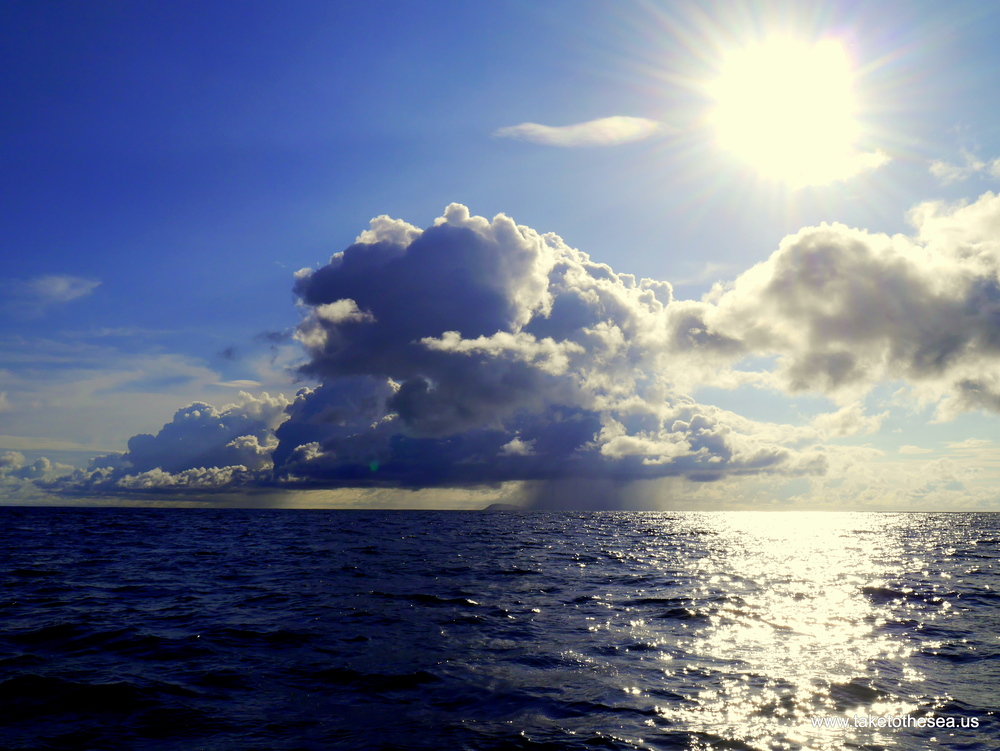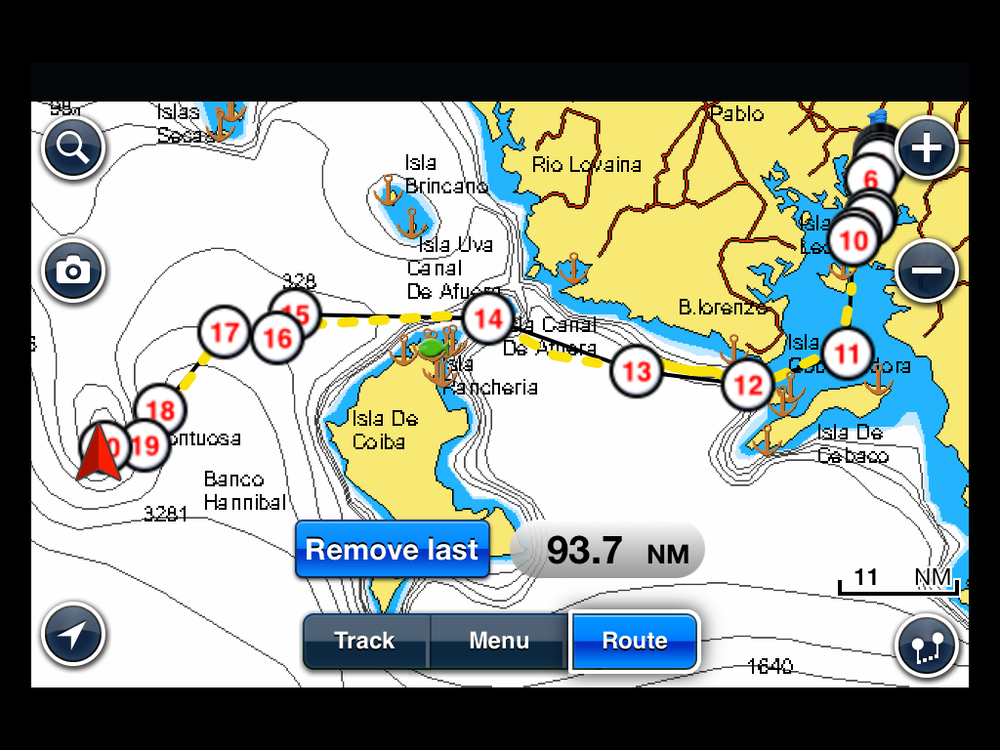 Log book
Port of departure: Puerto Mutis, Panama
Departure date and time: Monday, November 10 at 0730
Port of arrival: Isla Montuosa, Panama
Arrival date and time: Tuesday, November 11 at 2230
Total travel time: 1 days and 15 hours (39 hours total)
Miles: 93.7 nm
Average speed: 2.4 knots
Engine hours: 1362.8 – 1374.3 – 11.5 hours
Fuel: 5.75 gallons used
Fuel economy: 16.3 mpg
Maintenance notes: Engine oil and filter changed at ~1335 hours – New cutlass bearing and prop – Engine realigned – Fixed manual bilge pump – Cleaned and polished all stainless, including rigging – Sail repair and reinforcement – Replaced broken deck hardware – Batteries topped off
Tides and currents: High tide in Puerto Mutis at 0641 (up 11 feet) – on the way up we saw depths ~6ft (too close for comfort), but on the way out the most shallow we saw was ~9ft – strong outgoing current – eddies extending off of Isla Leones on the S side – strong non-tidal counter current on the West side of Isla Coiba, up to 2 knots at one point – the wind and currents do funny things to the waves
Forecast: On Monday the forecast predicted N/NW winds from 3-4 knots in the morning, S/SW winds from 5-7 knots in the evening – on Tuesday the forecast predicted N/NW winds from 4-7 knots in the morning, S/SW winds from 7-13 knots in the evening – ITCZ is off the coast of Western Panama – rain likely!
Navigation notes: Shoal area on SE side of Leones at 07.43.559 N and 081.5.681 W where depth dropped suddenly from ~35 ft to ~9 ft, marked by tumultuous water and lots of birds – lots of nets/buoys on the West side of Isla Coiba, keep a good look out – strong current on the West side of Coiba will disrupt your plans to make southern progress!
November 10
Wow, I can't believe we're actually doing this. This passage marks the beginning of our ~900 mile trip back up to Mexico and our ~4000 mile trip back home. Isla Montuosa, a deserted island about 40 miles off the coast of Western Panama is our first destination. A shakedown cruise, if you will, to get back into the flow and fix anything that needs fixing before we start the long haul. Plus, we can't pass up the opportunity to spend time on a very private, very beautiful deserted tropical island. After all, that is kinda why we're out here on a boat. Don't want to leave that dessert uneaten!
0730 A later start than hoped for since we had to check out with immigration this morning. They rolled up at around 0715, only 45 minutes past the agreed upon time. We started getting nervous at 0700, but they pulled through and had us out of there in about 5 minutes. The tide had turned and we could tell the current was just starting to ebb as we rowed back out to Serenity (Missnomer and the outboard took a swim the day prior, we have a rainy season deluge to thank for that). Perfect timing. Anchor up! Let's do this!
0830 Jeff and I are buzzing with excitement. So is Serenity. The current is strong and continues to accelerate as we near the mouth of Rio San Pedro. The ebbing ocean and all the tributaries acting in concert to usher us along at over 7 knots. At times we hit 7.8 knots. It feels good to go fast, even though we are under motor. Sunny, clear skies with a rainbow. A good omen?
0900 Checked into the Pan Pacific Net. The inter-tropical convergence zone (a belt of light and variable breezes + lots of storms) is sitting off the coast of Western Panama. Alright then.
1230 We cleared Isla Gobernadora and are glad to encounter a S/SW breeze between 5-7 knots. Sails up and we're drifting along at 2.2 knots. Sailing, though slow, is infinitely more peaceful and enjoyable than motoring.
1500 Serenity is in her element, going close to 5 knots in a 10-15 knots SW breeze. Dark clouds piling up on land, they will likely spill over and rush down to meet us.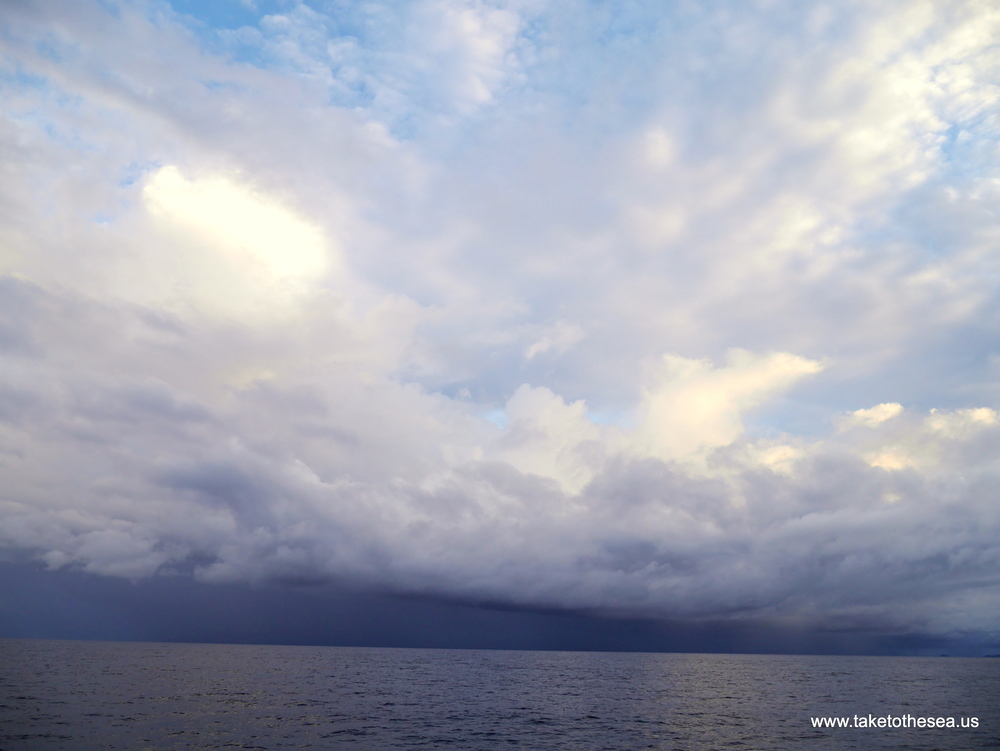 The slow motion gut punch.
1530 Dark clouds continue to march towards us. It's like seeing a giant clenched fist coming at you in slow motion. When will it hit? And when it hits will it be a gut punch or just a playful nudge? We're close enough to land that we fear the gut punch. SW winds are lightening. Time for the little jib.
1600 Strong gusts from the N hit with ferocity. Buckets of rain followed shortly thereafter. We quickly doused the main and are now heaved to with the little jib. Wind waves are growing and the sea state is lumpy. It's the beginning of Jeff's shift. He's keeping an eye on things up top while I ooh and aah from below. Hopefully this will quickly pass and we can use the N wind to make some progress.
1930 Still raining. It's cold rain too. Jeff's expensive jacket is no longer keeping the wet out. Wind at our back from the N/NE. Speed has varied between 1.9 and 4.5 knots. At one point we were making 4.5 knots with just the little jib. Now we're flying the main and the working jib, making about 3 knots. Can't decide if we should continue on our trajectory on the N side of Coiba, or start heading S. Either way we're likely to be fighting S/SW winds at some point in the not too distant future. Beef and broccoli over rice for dinner. A culinary success.
2230 Rain lessened to a drizzle and died about an hour ago. Wind is in the process of dying? Changing? Too soon to tell. Juice boxes make me exceedingly happy. I should have bought more.
November 11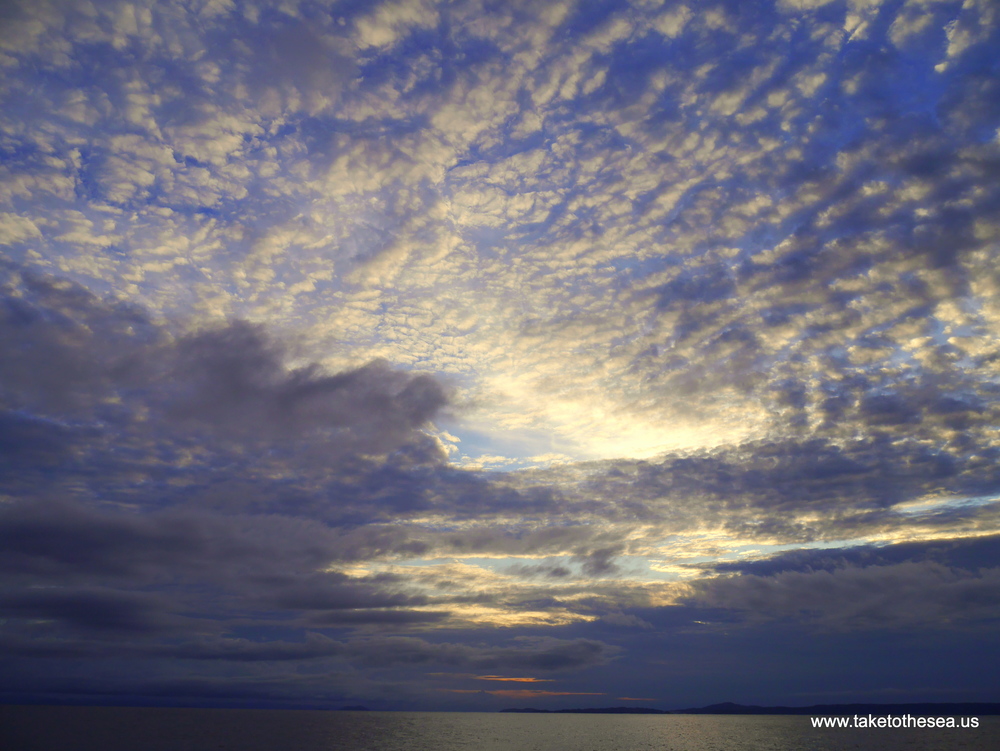 Sunrise over Isla Coiba.
0600 Jeff braved the night shift (gotta love being married to a night owl). Nothing too exciting to report. Fussy wind, fussy sails. Drizzle throughout the night. There is now a light S/SW wind. Not much progress, but at least it's peaceful. More dark clouds this morning. Rain in our future? Probably. We seem to have encountered a counter current. We're pointed W but heading NW. Hard to say if this is just tidal.
0800 Watching weather is like watching giants dance. The sunshine makes the storm clouds appear less threatening – it gives them a healthy glow.
0900 Checked into the Pan Pacific Net. Turned the engine on so we could get a boost and improve our radio transmission. It seems the storm clouds ran out of momentum by the time they reached us, the result being that we got a gentle little puff from the N/NW. I'm okay with that. If I knew it was going to be consistent it might be worth putting up the spinnaker. Wing on wing and we're almost making 2 knots though the wind seems to be lessening and the sails are having a hard time staying full in the swell. Lots of nets and buoys in the water. Inadvertently caught one on the rudder, but was able to get it off with the boat hook.
1200 Two hours with close to no wind. Just trying to keep the boat at a comfortable angle to the waves while we bob around. Nimbus clouds erupting like kernels of popped corn. Since my shift started at 0600, we have made less than 10 miles of progress towards our destination. Wishing we had more of that N/NW breeze! Our peppers have already started to go bad. Looks like my produce selection skills have deteriorated. Not a fun discovery on Day 2 of a 14(?) day passage.
1330 Wind! Finally! Less than 10 knots from the S/SW. Amazing how much time I spend just surveying the water trying to spot the tiniest ruffle, her subtle gestures, hoping and praying for wind. Dolphins come to play at our bow. More rainbows!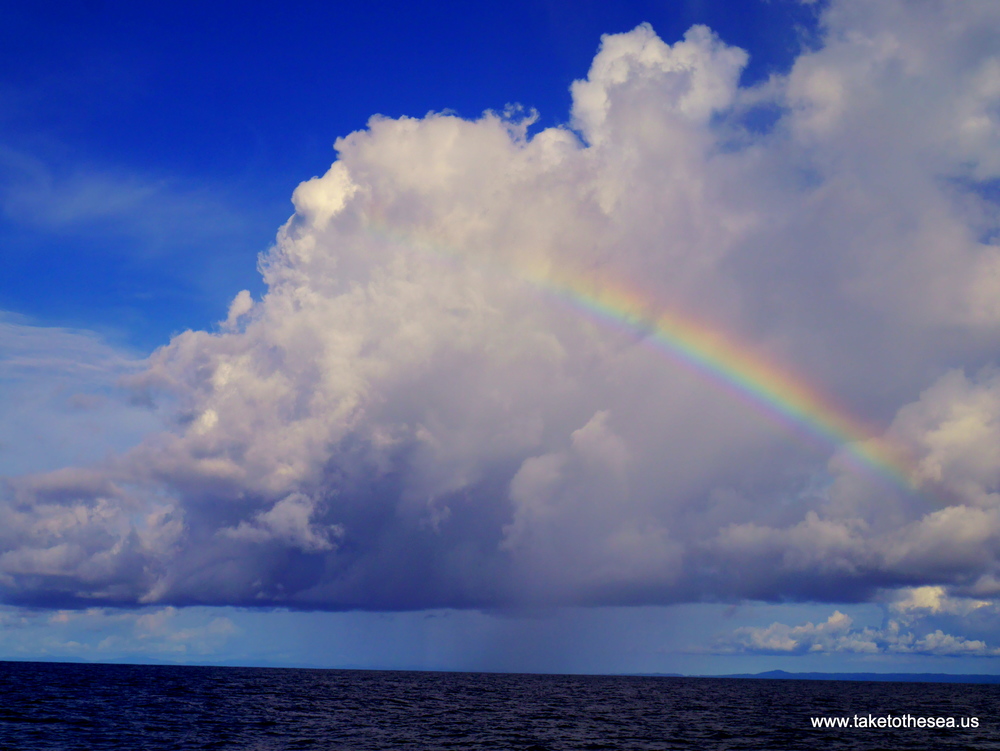 Sunsets and rainbows and dolphins never get old.
1600 In the grips of an adverse current (tidal + nontidal at around 2 knots, maybe more, pushing us N) and 10 knots of wind on our nose. We are making little to no progress towards our destination. On the starboard tack we are on a NW angle making a tiny amount of western progress and on the port tack we are on a SE angle making the tiniest amount of southern progress. So basically, we are more or less standing still. Perhaps we ought to see how the motor does in these conditions.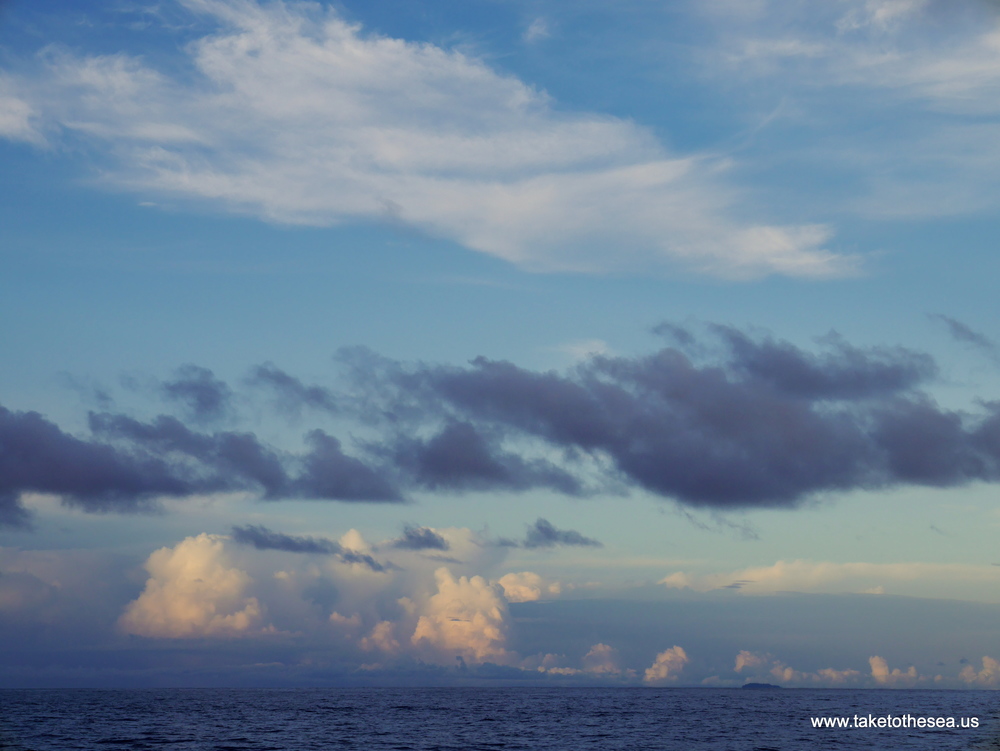 That little speck is isla Montuosa.
1630 Only 15 miles away from Montuosa, but the elements are conspiring. Under motor now and only making 2.5 knots. Waves are getting bigger, making for an uncomfortable ride. It's gonna be a long day. Breathtaking rain clouds over Isla Montuosa. So close, yet so far away! Trying to embody the "we'll get there when we get there" mentality…but I kinda just want to get there.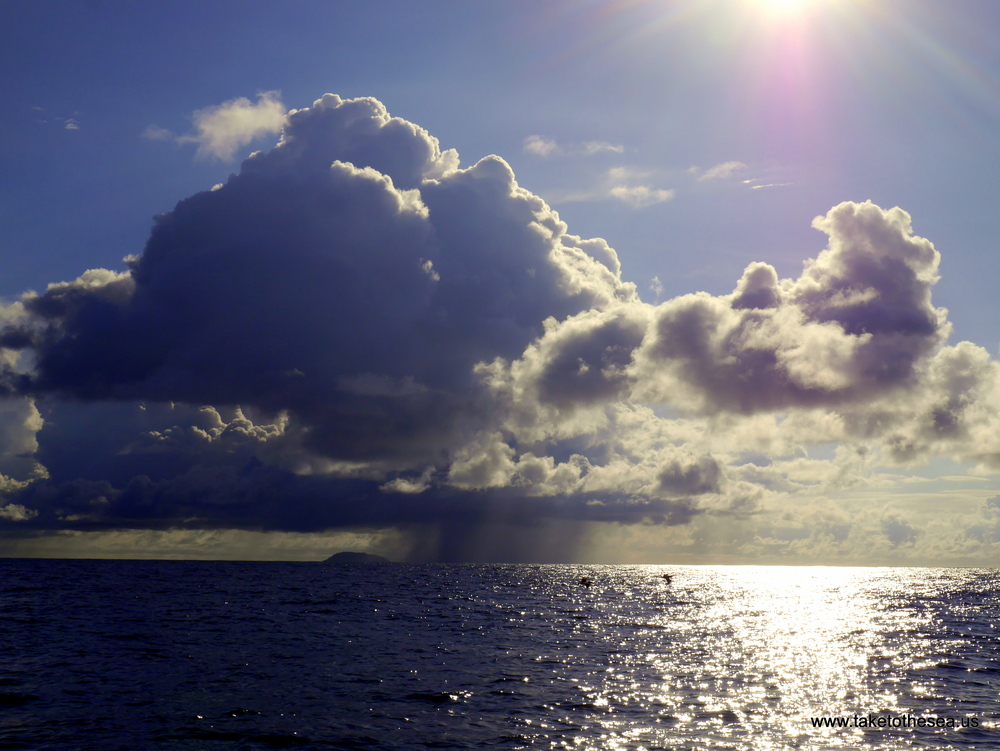 Rain clouds over isla montuosa.
1800 Yikes! Down to a crawl, plowing into stacked waves. Still about 10 miles away and now we're making less than 2 knots. The current here is maddening. The wind isn't too terribly strong, but it's ordered up some uncomfortable conditions. This is feeling strangely reminiscent of our upwind trip to Panama City. I have a strong desire to crack open the can of Pik-Niks, but it's only Day 2 and they are a precious (and depletable) commodity. Will power activated.
1815 Maybe we should just sail? It will take us longer but it will be more comfortable. Hoping that when the tide shifts the current will let up a little bit.
1900 Sails up and motor off! Jeff finally made the call. The motor gets old after awhile. The wind shifted a little to the SE at around sunset, giving us a better heading. Tide changed at 1845 and the current appears to be less evil. We can now make some S/SW progress (though still not an ideal heading. Moving along at a respectable 3.5 knots.
1975 Band of dark clouds on the horizon. Please spare us! Bouncing around in the chop. Exchanging happy thoughts and memories to make this suck less.
2130 Back to the motor since we otherwise would be tacking all night. The wind and current are still playing games with us, though with less conviction. Some rain, though not terrible. Making 3.5 knots. Isla Montuosa is so close I can smell it.
2230 We finally made it. Only took us 16 hours to do that last 20 miles. Anchor down in 32 feet of water. It's rolly. We're on edge. Now worried about that 4000 miles still ahead of us. We'll worry about that tomorrow. Quesadillas and bed time. This island better be worth it!
November 12
0700 So worth it. This is the most beautiful island I've ever seen. The sight renders me speechless and pictures can't do it justice.