What you come to find, sailing long distances on an old sailboat, is you live in a machine in constant motion that's always breaking down. No matter how new, expensive, or trusted your brand of boat, entropy cannot be escaped for long at sea. Sometimes you need one of those in-between pieces. Or the specialty replacement part that's an ocean away and costs more than you can stomach spending anyhow. If you want to keep moving, it pays to invest in a little bag of tricks that will keep you equipped to respond to misfortune.
The truth is, if you can live without product guarantees and lifetime warranties, you can make your own perfectly serviceable custom pieces by keeping a few important raw materials onboard, and by keeping your expectations reasonable. Below is a list that only scrapes the top layer of the contents of my junk laboratory, but in our travels so far we've found each item to be indispensable at one time or another.
Silicone Tape (Also known as Rescue Tape or, as advertised in Mexico: "McGiver Tape")
Hoses break. You think it won't happen to you, because how many hoses have broken in your life up to now, really? That's the kind of thing that happens to other people. People who are harder on their hoses. Let me tell you, there are a lot of hoses in your life when you're on a boat, and they got it hard, man. Imagine for a moment that vibration from the engine rubs your thick rubber raw water hose against your engine mount. Uncounted hours later, you have a hole in your boat letting in seawater, not to mention an overheated engine and, very soon, chewed up impellers. Or how about this: a diesel fuel line to your engine gets torqued in just such a way that it splits the brittle old rubber hose into three raggedy open smiles. Did you think you are going somewhere today? Guess again.
But wait! What's this roll of stretchy fruit roll-up stuff in your toolkit? Not all is lost after all. See, this stuff sticks to itself as you wrap it and creates a watertight seal. Give it several wraps around your busted hose and help it along with some zip ties as necessary, then forget that problem for at least four to six months! Not just for hoses, silicone tape makes a great waterproof wrap for electrical connections in the absence of heat-shrink tubing, and if you press several layers together, it can make a respectable gasket or anti-friction pad to fit various situations.
Another hidden use of this tape is as a universal adapter for hose connector fittings. You could carry spare hoses of all types, thicknesses, and lengths, but that's not always feasible in a limited space or on a limited budget. I've used silicone tape to fit incompatible water hoses onto metal connector nipples and valves in our engine and house plumbing system without issue or incident for thousands of miles now. It works like so:
Hose diameter larger than fitting – put a one inch slit in the end of the hose, overlap the ends around the fitting like hands in a church lady's lap, and wrap with a liberal amount of tape until watertight. Hose clamp to finish.
Hose diameter smaller than fitting – cut an inch slit in the end of the hose, squeeze it onto the fitting like a fat guy in a little coat, and wrap with a liberal amount of tape until watertight. Hose clamp to finish.
Just don't let anyone see it. And you didn't hear it from me.
Latin American fishing line
You can find rolls of this stuff in various thicknesses at any Pesquero-type store, and I recommend keeping at least two different rolls onboard. Sailing requires construction of many temporary inventions, and rope makes the best short-order machines. We use this stuff to suspend our FrankenShade between the rigging wire and two metal pipes shooting up from to our stern pulpit (attached with – what else? – hose clamps). It also holds up our solar panels, strings up our HAM antenna, and occasionally is used to fish. This is a can't-miss item.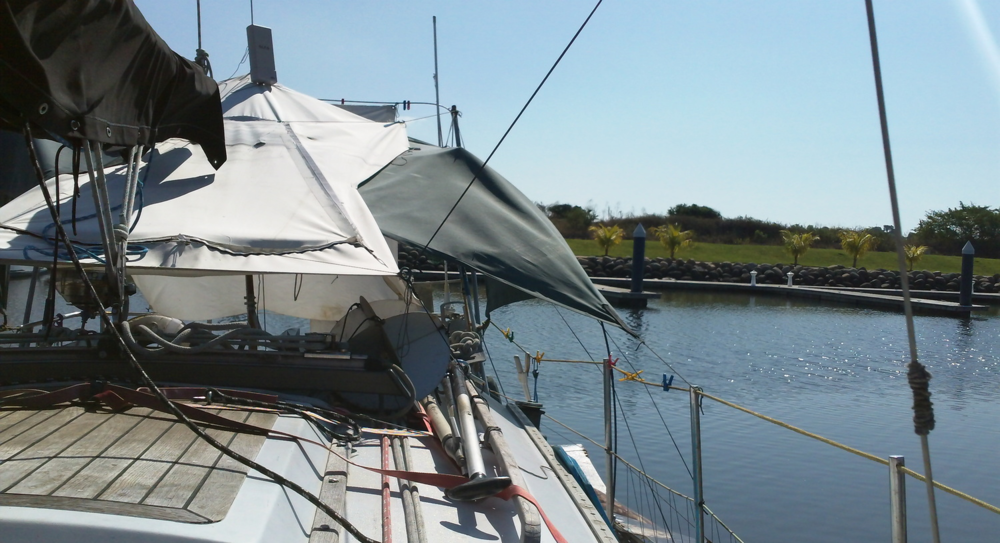 Rubber treadmill mat
I use this more sparingly than a mountain man uses toilet paper. You can make bushings, spacers, non-slip layers for friction-tightened connections (e.g., inventions held together with hose clamps), and a dozen other things I haven't had to think of yet. Rubber is a very versatile building block and a worthwhile addition to your kit.
Bamboo skewers 
Think of this not as a shish kabob spit, but as a multipurpose, disposable, non-conductive nudger, poker, mixer, scraper, and miniature torch or splint. We go through a pack of these every season.
Coil of stainless or galvanized steel wire 
This is your Roto Rooter for clogged drains. You can also tape a long electrical wire to the end of it and thread it through tight spaces. Steel wire also makes a good multi-purpose shackle or homemade fishing lure (the big fish bite straight through even the heaviest fishing line).
When the seams on Miss Nomer, our 30-year-old folding porta-bote, split apart below the waterline this season, we feared the end for our trusty pack mule. Unwilling to accept the fatal prognosis, we threaded short lengths of steel wire through pre-drilled holes on either side of the 8″ split and twisted them tight to make "sutures", then covered the repair with a watertight seal of 5200 and flexible plastic mat. The stitch-and-glue is a time-tested method for the construction of cold-molded boats, and though I'm not sure this is what they had in mind, you can't argue with the results.
Heavy gauge wire has also made a surprisingly resilient replacement for the bolt in our gooseneck where the boom meets the mast. The thick bolts kept shearing off due to the different angles and stresses the boom assumed under sail, but after almost two years in "temporary" service, the wire is still holding strong!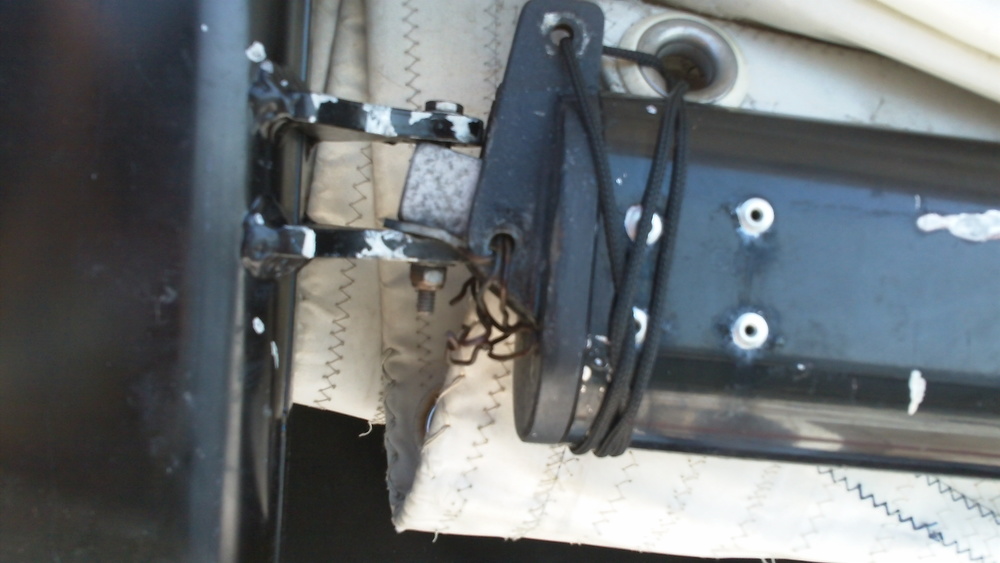 PB Blaster, Naval Jelly, and Corrosion X
Also known as the gifts of the three wise men. WD-40 is for the masses. Serious boaters use serious chemicals.
Spare sail cloth
I bought a roll of mid-weight Dacron online and stored it in the quarterberth for a year and a half before we even unwrapped the packaging, but when you need it, you need it. Add grommets to your toolkit to enable creation of shade cloths and other protective coverings if the need is desperate.
PVC pipe (various diameters)
My parents' generation had Erector Sets. The rich kids had Lego's. My grandma's closet had Lincoln Logs whenever we would go visit. I had Construx. Don't know what those are? I don't blame you, but I do pity you, because they were the sweetest building set ever invented. Consisting of plastic girders and six-sided snap connector cubes, this set opened the mind to skyscrapers, spaceships, structurally robust medieval weaponry, and new age structures like Buckminster Fuller-esque geodesic homes.
When I stowed my bundle of plastic sticks in the boat while demanding that Harmony's back issues of unread magazines be left behind, she looked at me a little indignantly. What she failed to understand was my foundational experience with Construx, and therefore the number of potential future inventions I had just brought aboard. The real shame here is that the PVC makers never quite came up with the killer connector, the equivalent of the little blue cube. I should write a letter to the PVC Company. They have one of those right?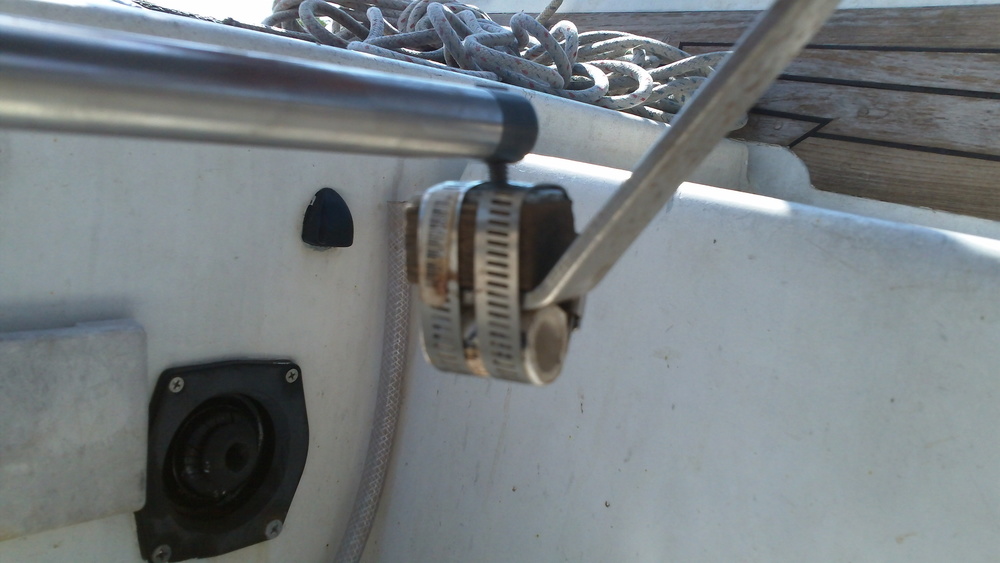 Hose clamps
I could probably write a whole essay about these alone. They should already be in your toolkit, but I will reemphasize. Beyond merely holding a hose tight to a hose barb, a hose clamp can be used to friction-bind a plethora of pieces together and cinch them tight. It's important to carry clamps of every diameter you can find, because if you have them, you will find a use for them. Going back to the Construx story, this is probably about as close as you're going to get to the all-purpose little blue connector for a boat.
Fun fact: The Spanish word for hose clamps is "embrazadores", which translates roughly to "huggers". How can you not love that?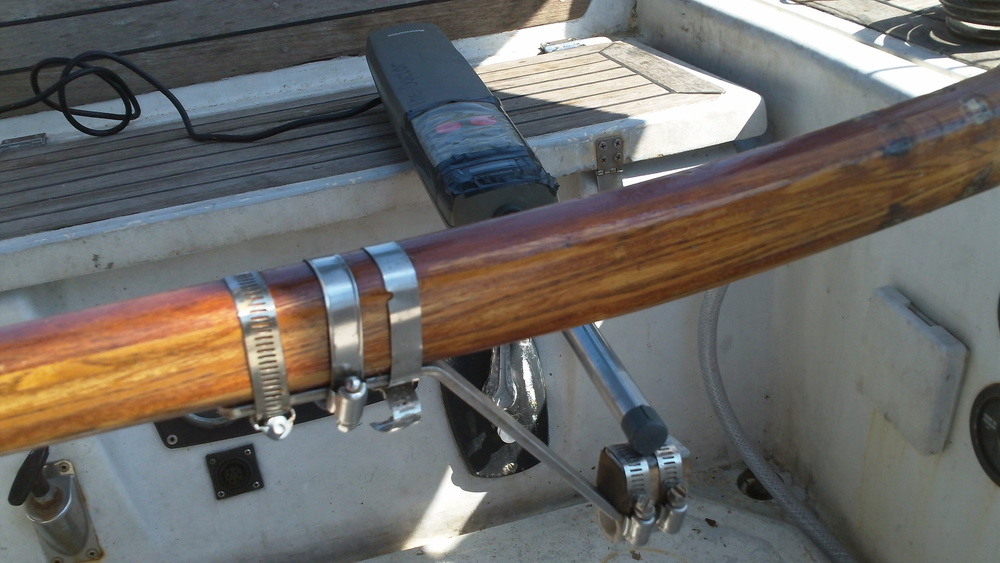 Scrap wood, sheet metal, pipe, and threaded rod
'Nuff said.
Fiberglass and epoxy
Think of these as the ingredients for old-fashioned structural 3-D printing. Polyester resin may be cheaper and easier to find, but the superior adhering and mixing properties of epoxy make it my construction material of choice for custom-molded jobs. You may already have seen the fiberglass propeller I fashioned when our folding prop fell off, but what I didn't show you was the custom fiberglass wrench without which I would never have gotten the old prop hub off the prop shaft to allow us to install our new metal propeller.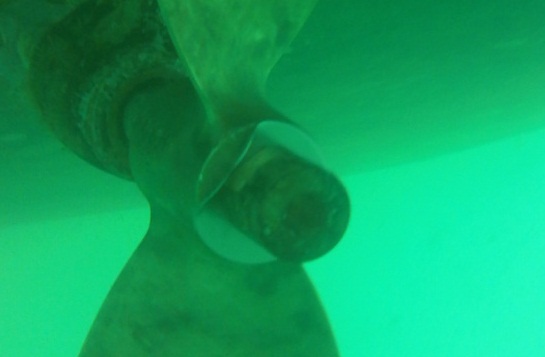 That nut on the end of the prop shaft has a hexagonal hole intended for a very thick Allen wrench, but of course neither Serenity nor El Vagabundo carried one of such size in their holds. What I did have, engineless in an uninhabited island bay, was a socket wrench set that had a socket with a hole the same size and shape as the one on the prop nut. I had the female, but what I needed was a male. Enter epoxy. I set the empty socket on a sheet of tin foil, poured a mixture of epoxy (thickened with chopped glass fibers) into the makeshift mold, and left it to bake in the sun. The next day, out popped a perfect hexagonal prism (epoxy doesn't adhere to metal), and now I had the key to fit my lock. The gamble worked, but a few weeks later it occurred to me that I could have just used a plumber's pipe wrench on the outside of the nut and saved myself all the trouble. So don't forget to carry one (or two) of those as well.
Dyneema
Stronger than steel and immune to stretching, a length of this miracle of modern chemistry and manufacturing can be used to make lifelines, soft shackles, and even standing rigging in a pinch. When the stainless steel ring that secured our boom vang (red ropes) to the deck sheared off in heavy weather, I was able to build a suitable replacement by tying a loop of dyneema around the bottom of the mast and under the halyard spools. Beware that dyneema is vulnerable to chafing, but this risk can be mitigated by the inclusion of reinforced hose. The boom vang repair held up without issue for several months until a new piece of hardware could be found.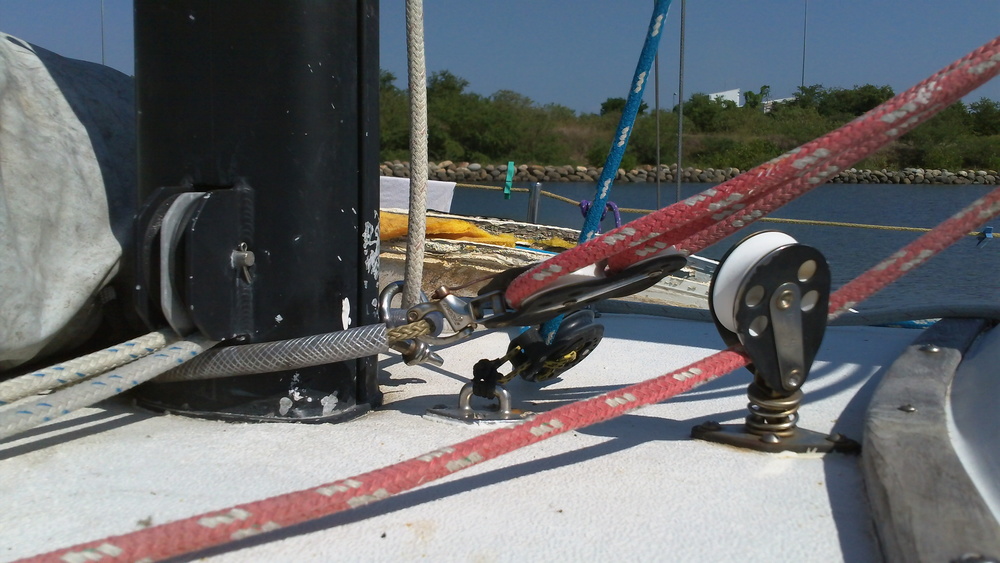 Random Screw Bin
You are going to need your nuts. And your bolts, and your screws. If you are smart, you have been preparing for this your whole life. The junk drawer that filters the refuse of your material life, that peanut jar of mismatched bits and pieces, has stayed with you through several years of apartment moves until the moment you sell everything and bring it with your few remaining possessions onto your boat. People questioned your resolve when they said, "Why don't you just throw this junk away," or, "Do you even know what this thing goes to?" This, my friend, is payday.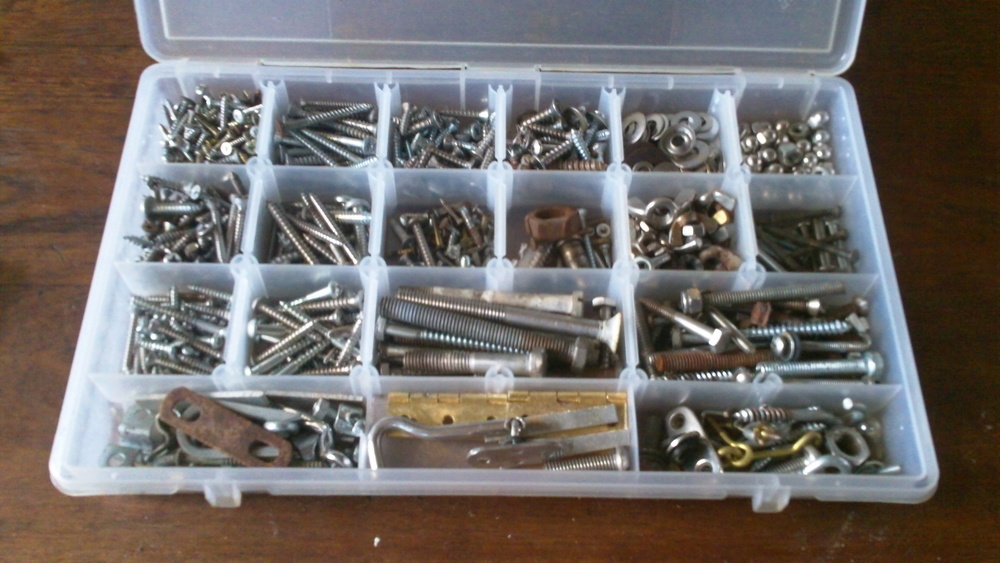 Honorable Mention: Other miracle liquids to keep aboard:
5200 and 4200, obviously
JB Weld (Great for engines. I mean, not great, but it'll get you home)
Acrylic super glue (Weld-It brand by DevCon brings new life to a leaky snorkel mask)
Silicone sealant (I know, it's blasphemy, but you never know when it'll come in handy)
SplashZone or other 2-part epoxy putty (fishermen love this crap, but I've never had to use it)
Plumber's Putty (comes in a little tub from Home Depot and is like waterproof Play-Doh)
What else can you do with the contents of the Jury Rigger's Essential Toolkit? Build the winning entry in this year's Egg Drop Competition in your local fourth grade classroom.
If you have any other suggestions or tricks that have worked for you out in the big blue, chime in in the comments!