Logbook
Port of departure: Puerto Chiapas, Chiapas, Mexico
Departure date and time:Wednesday, December 17 at 3:00pm
Port of arrival: Bahias de Huatulco (Bahia Santa Cruz via Bahia Jicaral), Oaxaca, Mexico
Arrival date and time: Sunday, December 21 at 5:00pm
Miles travelled: 287 nm
Total travel time: 4 days and 2 hours (98 hours total, 90 in motion)
Average speed: 3.2 knots
Engine hours: 1405.8 begin – 1433.0 end – 27.2 hours
Fuel consumption: 10.9 gallons
Fuel economy: 26.3 mpg
Maintenance notes: Starter battery water topped up : ), Rigging checked.
Navigation notes:Lots of fishing traffic to avoid in the East half of the Gulf of Tehuantepec – it is possible to transit the Gulf while staying very close (1/4 mile) fromshore in 20-30 feet of water – if following the "one foot on the shore" approach to crossing the Gulf, there are two estuary mouths with shoal areas to watch out for, it is recommended to stay ~1 mile offshore when transiting these areas to avoid the shoals and breaking waves. US Pub 153 for Mex and C. America says that "During the season of strong N winds, the currents in the gulf are influenced by the wind. When a N wind is blowing, the current sets N and E along the W shore and W along the E shore. At other times, the current sets in the opposite directions. This is caused by the violence of the strong N winds which lowers the water at the head of the gulf and produces a flow along each shore to fill the vacancy. When the N winds moderate or cease, the reverse action takes place. The water at the head of the gulf is then forced out along both shores by the return of the water previously forced out by the strong wind. These currents have been observed to extend as far E as Champerico and as far W as the Rio Verde." The tidal swing we are seeing now is much less than in Panama, varying by about 4 feet.
Weather: On Wednesday the forecast predicted a blow up to 30 knots from the N diminishing throughout the day – On Thursday the forecast predicted up to 15 knots from the N diminishing throughout the day and moving around to the W/SW – On Friday the forecast predicted 0-5 knots from the N, then spinning around to the SW, then W, then back to the N at midnight (light and variable) – On Saturday the forecast predicted 5-10 knots from the N until noon, when it was predicted to build to 15 knots – On Sunday the forecast predicted 5-10 knots from the N at the beginning of the day, which then dies and moves around to the SW then W then N at 0-5 knots (in other words, light and variable).
Day #1 – December 17
At noon the navy and port captain visit the boat to issue our Zarpe and do the dog sniffing test. No issues with paperwork and the dog is too preoccupied with Tack's food to do a thorough inspection. The inspection starts the clock. We have two hours to get out of here.
At 2:00pm, after a flurry of activity to get ready (mostly internet related) we try to fire up the engine and discover that our starter battery is dead and dessicated. The guys in the office have been trying to convince us to stick around forever, or maybe just through Christmas. They might get their wish. We recently checked and topped off the starter battery, but apparently not recently enough. Memo drives me to Puerto Madero to purchase more battery water and offers some friendly advice on the ride over – make sure all systems are go the day before you intend to leave. Very good advice indeed.
Batteries topped up. We use the house bank to supplement the starter battery and the engine roars to life. Ronnie helps us with the lines and Memo hangs out the office window with the air horn. We're going to miss this place.
We motor out through the channel, past men casting nets, past workers on big tuna boats cleaning and welding, past kids splashing in the water, past restaurant owners patiently waiting for customers to visit their shoreside palapa restaurants. Between on the water greetings I greedily shovel food in my mouth to try to stabilize my blood sugar. It's been a full day already and I totally forgot to eat.
Once we are a good distance from the breakwater we decide to sail, though the wind is not ideal from a speed or direction standpoint. Jeff takes the first shift from 4:30 – 8pm. Dinner is late (8:00 pm) and simple (guacamole and chips). I'm on watch from 8 – 11:30pm.
Day #2 – December 18
Jeff takes the night shift and tacks upwind all night in about 5-8 knots of wind, making slow progress.
There is still a faint breathe of wind when Jeff wakes me at sunrise. The sunrise is eery and breathtaking. Trawlers passing before a flourescent pink sun. The wind dies at around 7am and I decide to motor for most of the morning. Since we have a relatively short weather window, we need to keep making forward progress.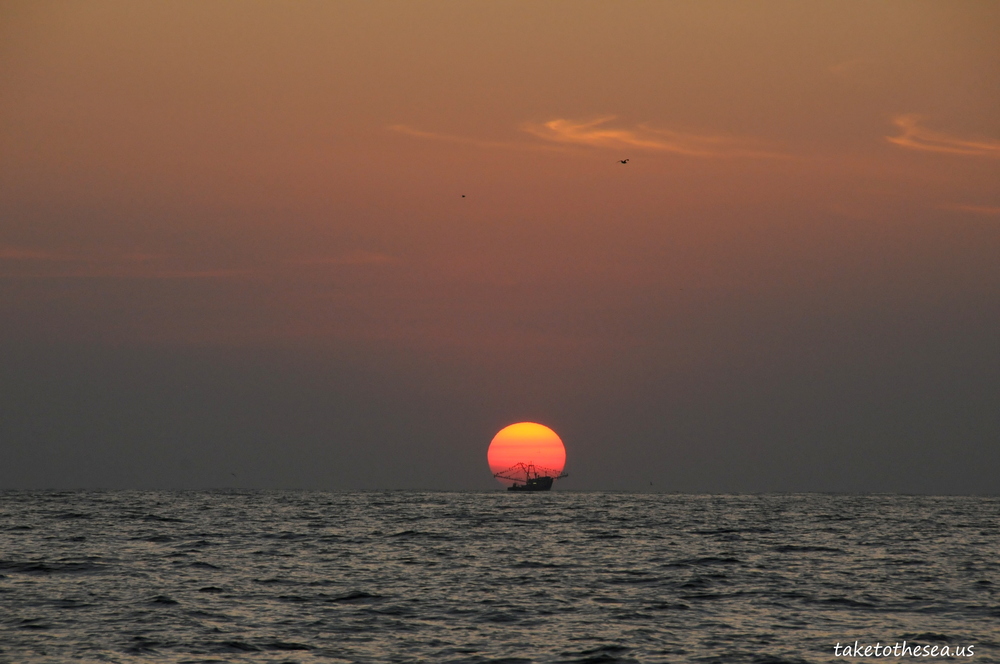 Fishing traffic has been abundant, lots of trawlers and pangas. Marine life has been sparse, with the exception of birds flocking around the boats. The sky is hazy, obscuring the outlines of the mountains. Makes me feel adrift in a perpetual dream state.
At noon we can feel a light wind behind us. Just in time for Jeff's shift. We sail with the wind at our back until sunset, when it dies. We drift. A pleasantly uneventful day. Much more relaxing than the day prior and the day to come. Salchichas guisadas over rice for dinner.
Day #3 – December 19
A side wind (E/NE) picks up at about 11:30pm, just in time for Jeff's shift, again (he is favored by the wind gods…either that or his shifts tend to coincide with the shifts in wind). Jeff sails through the night with a light wind either on our side or starboard quarter. A nice breeze and a nice heading, though we do appear to be fighting a current.
At about 4am the wind starts to sputter out and change direction. An hour later it's coming at us from the N/NW. When I take over at sunrise I tack in towards shore since we're heading into Tehuantepec territory. Even though the forecast calls for light winds, the Tehuantepec has been known to catch boats off guard. We intend to follow the "one foot on the shore" strategy – this strategy will have us .2 – 2 miles offshore to reduce the effect of wind waves if and when the wind picks up.
Half a mile from shore and I tack back out on a W heading. I would really prefer to be hitting a NW heading, but the wind won't allow it. The grib files (weather files) show wind moving around to the SW during the day. I'm hopeful. Just before Jeff's shift I tack back in towards shore having noticed that the wind is swinging around to the W. As it keeps moving around to the SW we can slowly modify our heading.
The SW wind is steady at around 8 knots and we enjoy a pleasant day of sailing less than 1 mile from a white, sandy shore backed by verdant vegetation. The grib files show a N wind picking up at around midnight and we want to be ready for it. Can't stray too far from shore.
Dinner of stir fried veggies over rice at sunset. We are squarely in Tehuantepec territory now. This is where the band of wind will strengthen, if it's going to. I'm starting to feel anxious, but try to get some rest nonetheless.
The SW wind dies towards the end of Jeff's shift and he starts up the motor. When I take over I can feel a light N wind starting, but continue to motor sail. The N wind is steadily building and after an hour galloping along at 6 knots with the motor on and sails up, I kill the motor and carry on under sail alone in around 10 knots of wind. It's uncharacteristically cold and I huddle under a blanket to stay warm.
Our heading is not ideal. I'm not able to point in towards land like I expected and the current heading has us getting about 3 miles offshore before it comes back up to meet us. The only benefit to this heading is that it gets us around a waypoint on our charts that marks a shoal area at the mouth of an estuary. The wind continues to build, as do the seas. Just for the record, 3 miles is a lot of fetch (space for waves to build). The sea is already stacked against us and we're only in 15-18 knots of wind.
Just before Jeff's shift Serenity starts to feel overpowered by the wind. I reef the main. We're now in 20 knots sustained.
Day #4 – December 20
When Jeff takes over at midnight he inherits some supremely crappy conditions. The sea is a mess, the wind is boisterous, and to top it all off…it's really really cold. I actually feel more prepared for the wind than for the cold. As Jeff is observing the conditions and vocalizing his general disapproval, having hoped for the 5-10 knots the weather charts predicted, a sneaker wave smashes into the hull and drenches his back. The shock of the cool water elicits a manly roar. It's going to be a long night.
We're making 6 knots, easy, and every mile we sail brings us back in towards shore, where hopefully we will find some relief from the waves.
As the wind continues to build it is clear we have too much windage from our awnings. They're flapping desperately, painfully, like a wild bird in a too small cage. I help Jeff take them down then retreat to the downwind setee to rest (with little success).
Jeff discovers the topping lift (which holds the boom up when the sail isn't holding it up) has come undone. We can't take the main sail down until the topping lift is figured out (unless we want a boom crashing down on our heads…yeah, no thanks). It's always something. Jeff works his magic just in time. The wind continues to build and he drops the main. Even without the main we're still able to point well enough under jib alone though the doctor has a more difficult time steering. We're still making over 6 knots and we can feel the effect of the waves lessen as we move closer to shore.
The forecast predicted max 10 knots in this stretch, but that's obviously not the case. We have been spared the worst of the Tehuantepec (people have reported gusts up to 80 on the absolute worst days), but we have not been spared completely. We're now in sustained 25 knots, though it's feeling more manageable with ever passing minute.
When I take over again at 3am the doctor is having a tough time steering so I decide to hand steer, reasoning that it will help to keep me awake. Within minutes of taking the tiller I'm totally wiped. I have no distractions, no aural entertainment, no music, no podcasts. It's just me, the sea, the wind, the stars and I am fading, fast.
I shuffle through the songs I've committed to memory and am alarmed to discover I really only know (hardly) the chorus of most songs.
I am barely breathing and I can't find the air. Nothing really matters and I don't really care.That's definitely not how that one goes. I slap my own face to try to stay alert. That works for all of 5 seconds.
I even have a hard time recalling the camp songs of my youth that are pretty much exclusively chorus. The two songs I have a firm grasp on are "Johnny Has a Head Like a Ping Pong Ball" and "99 Bottles of Beer on the Wall." Both clear winners. Counting sheep proves to be counterproductive…so I sing.
Johnny has a head like a ping pong ball
Johnny has a head like a ping pong ball
Johnny has a head like a ping pong ball, like a piiiiiing, like a ping pong ball
Ping pong ping pong ping pong ping pong ping pong ping pong ping pong ball
Ping pong ping pong ping pong ping pong ping pong ping pong ping pong baaaaall
Again!
Johnny has a head like a ping pong ball…
It's a shame there's not more to that song. You can see why I tired of it after only a minute or so. The song really benefits from a large crowd, split into groups who can sing it in rounds. Only 2 hours and 49 minutes to go! On to song number two.
I've never sung 99 Bottles of Beer on the Wall from start to finish. I've never really had occasion to, but I'm grateful for it tonight. The 90s and 80s are crisp and clear. I'm overwhelmed with pride at my ability to steer a boat in 25 knots of wind and count backwards from 99. Like rubbing my head and patting my belly…or is it patting my head and rubbing my belly? The 70s and 60s start to get a bit blurry. By the 50s I'm either repeating numbers or skipping them…probably repeating them because it takes me an unrealistic amount of time to get through the 50s. It's all downhill from here. I start to feel drunk. Not spinny drunk, just disoriented, how in heck did I get here drunk. I close my eyes for a second and forget, altogether what number I'm on. I imagine instead weird dreamscapes, am visited by flashes of memories or completely nonsensical thoughts. My deceased grandma made several cameos. In the 20s I close my eyes and imagine myself doing the breast stroke in a bowl of cereal, surrounded by floating fruit flavored numbers (no grandma in this one). I wanted to eat them all, all the fruity numbers, but had enough restraint to wait until I found 99. Why was I looking for 99? Oh right. Beer. I was singing about beer. Why was I singing about beer? When we get to Huatulco, I'm going to have myself a nice cold beer. Beers prance through my head, whispering their simultaneously descriptive and nonsensical names to me. Raspberry sour wit. Peach grand cru. Hazelnut brown nectar. Honey bock lager. Orville Reddenbacher. Hop in your mouth IPA. Saint Bernardus Christmas ale.I don't remember if I ever make it to 1, I'm inclined to say no. Did you forget this all started at 99? I did too.
Despite my sleep deprived state I've been able to steer the boat in a more or less straight line and have been keeping a close eye on our depth sound, watching the numbers slowly drop from 70 feet all the way now to 30 feet. This, along with the sweet smell of desert (a hint of jasmine and sage), the sound of surf crashing on shore, small shoreside lights growing larger, greatly diminished wave height and a dog barking, signal that it's time to start turning downwind and away from shore. Hearing the dog bark did incite a moment of panic.
Now awake, though still slightly delirious, I point the bow towards a bright orange light on shore. What is that? It must be a volcano erupting! I conclude prematurely, since the light is nothing but a fuzzy speck on the horizon. Someone at Marina Chiapas told me they saw a volcano on their passage. I think. Or am I just making that up? No. It's definitely a volcano. I can't believe it! How cool! Eyes fixed on the volcano I'm now wired by the thought of how supremely awesome this is. How everything in my life has been leading me to this very moment: sailing past this effervescent, glowing volcano in the middle of the night. I begin ascribing mountains of meaning to this phenomenon. I think I see magma spewing and spilling. Oh and there's the conical outline of the volcano! and Wow, look at all of that steam, it must really be flowing. How fortunate are we!!! The beholders of this mighty volcano!
Our angle is much improved and I put the doctor to work so I can focus all of my attention on that great orange beacon. I want to get close enough before the sun rises so I can maybe get a picture.
Jeff comes on watch and I'm eager to point out The erupting volcano! Can you believe it? I gush. It took everything I had not to wake him up before now. He barely wipes the sleep from his eyes before I explode like an infant who has just discovered their own vocal chords.
"Hmmm, yeah," is all that manages to escape his lips. I'm supremely disappointed by his response. I've spent the last hour fantasizing about this and I expect nothing short of shouts and wild hand gestures and exclamation points. After glancing down at his chart, then back up at the orange light, he utters "I'm actually pretty sure that's an oil refinery plant or something." And just like that the fire breathing dragon metamorphoses into hunk of concrete breathing smoke. If he thinks me a total crack pot, he's not letting on.
Jeff spends his watch sailing downwind past hulking giants at anchor outside of Salina Cruz. Some sailors we met in Marina Chiapas waited out the worst of a blow in Salina Cruz and found their psyche tested by the dusty, barren, industrial town populated with the Mexican Navy, oil workers, fishermen and hookers. We are fine cruising right on by. Or perhaps their impression is as apt as the volcano sighting? Or maybe I'm just going insane.
As we round Punta Chipehua, the wind at our back lessens enough that we feel comfortable putting up our little yellow spinnaker. We should have thought twice about this seeing as our spinnakers (small or large) are also known as the "inviters of chaos." We are thorougly pleased with ourselves, trotting along at 4 knots in a light breeze when all the sudden the wind dies. "Let's get her down" Jeff urges as the wind starts to spin around in a vortex and strange shadows and patterns in the water appears to be chasing us. All things spinnaker make me frantic, but we get her down with grace and ease (no wind certainly helped). We stayed in the weird wind vortex for the next 30 minutes or so, the wind changing direction every few minutes. The seas still in very slow pursuit. It becomes almost comical when you see them approaching for so long. Like being chased by a blob. Though at the exact moment you turn around to laugh at how slow the blob is, it inevitably clobbers you. Who's laughing now.
What follows is too many hours of a large following sea (presumably from the Tehuantepec) coupled with 15 knots of wind right on the nose. The sea state is confused and the wind direction has us making little forward progress. The Tehuantepec is supposed to be blowing 25+ today so we find the wind direction to be totally counterintuitve. We relent to the crappy conditions and bring the motor to life. Even under motor we're only making about 3 knots. Oof. Fighting a current as well. Seas crashing into eachother, trying to weave a tapestry…a very violent tapestry.
As the day drags on the wind lessens, though the angle does not change, and the swell at our back is less overwhelming, though still present and lumpy.
On a brighter note. The Oaxacan coast line is absolutely stunning. Chalky tan and rose colored cliffs offset by supple dunes that run clear to the water. Backed by the hazily outlined mountains giving everything an instagram like quality (Jeff's observation, not mine). Jeff fantasizes about deconstructing pieces of our boat to use as sleds on the giant dunes. He lays claim to the bathroom door.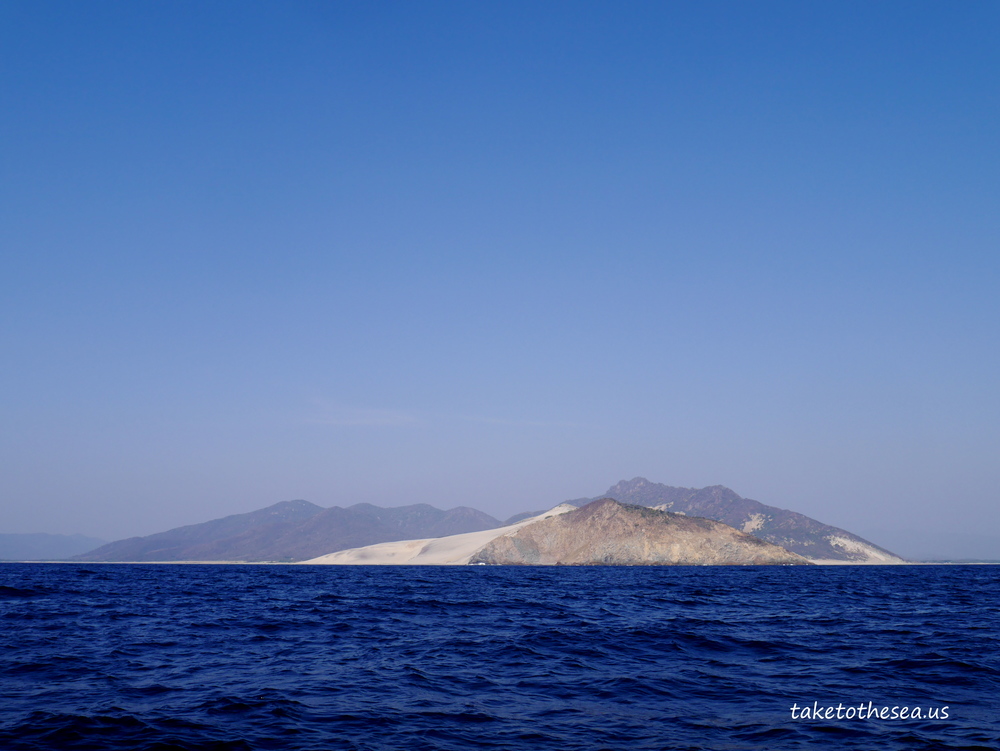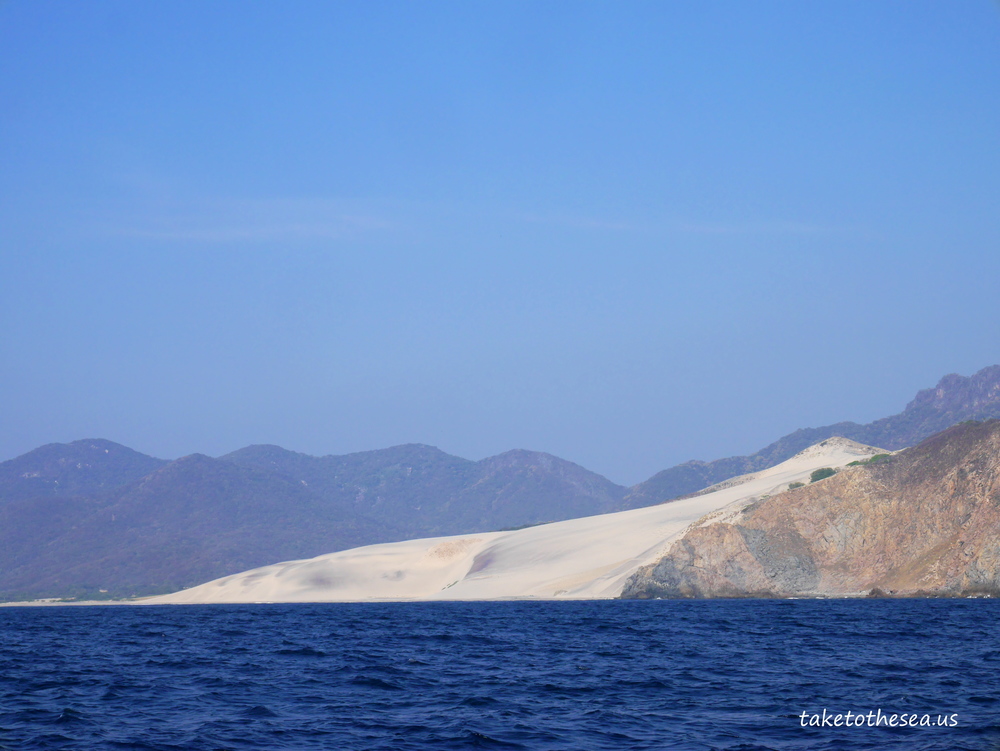 Since we're close enough to shore we can see tiny figures going about their daily lives. On one abandoned stretch of beach, a person rides their horse at a full gallop. If they're racing us, they easily win. Show off. We are finally seeing a wealth of wildlife again, my favorite being the hundreds of manta rays jumping out of the water like kernels of corn in hot oil. The sound of their splash akin to the sizzle pop.
The wind dies mid-afternoon and we trundle along under motor.The rest of the day is unremarkable and at 9pm we're within about 12 miles of our intended anchorage, but given that we don't have good detailed charts for the area, we're wary of approaching the rocky shore at night. Also, the light N wind we've been expecting all day finally arrives, so I kill the motor and put up sails. We must still be fighting a current because we're barely crawling.
Day #5 – December 21
Jeff takes over at midnight and sails us to the anchorage and then, slowly, back and forth in front of the anchorage. He wakes me at 6am with the hum of the motor and we finish up the last few miles into Bahia Jicaral with pockets of fish leaping all around us. A beautiful bay, its entrance is flanked by guano covered rocks, the hills behind it speckled with cactus and pink and white flowering trees that vivify the otherwise brown landscape. Butterflies flit about. An extensive patch of coral is thoughtfully marked with buoys. We anchor in 20 feet, sand, and after coffee and a cursory clean-up, we inflate the dinghy and are bound for shore.
Unfortunately, this is not our final stop of the day. We were supremely hopeful that Bahia Jicaral would have an internet signal. I know, I know, we're out in nature and internet shouldn't be our first objective, but Jeff is applying to graduate school and has lots of deadlines looming. Right now internet is more of a necessity than it usually is. Suffice it to say, after a hike up an abandoned road, we are not able to detect an internet signal. This fact coupled with the discovery that, come lunchtime, this previously secluded bay is now overrun with hundreds of tourists and the park rangers, who pay us a visit, inform us that we need to procure special bracelets to be in the national park, confirms our decision to move along.
As luck would have it, we discover that with the motor running the bilge pump is frantically pumping water overboard. Never a good sign. There is a ruptured hose in the raw water system on the engine. Jeff has the requisite moment of exasperation then gets to work. The hose is long enough that he's able to remove the busted portion and still fit it to the nubbins (technical term). The culprit is a piece that broke off the old water impeller and thoughtfully lodged itself in the hose, causing the water pressure to increase and the hose to bulge and rupture. Those water impellers will get you every time.
We backtrack under motor (no wind…counter current) to Bahia Santa Cruz, anchoring next to another sailboat off of the beach immediately adjacent to a cruise ship dock (we would later be asked by the Port Captain to move to the other side). With the anchor finally set for the night we busy ourselves pouring drinks and making a roasted veggie lasagna. The Papagayos and Tehuantepec are now behind us. Cheers to that.