Logbook
Port of departure: Bahias de Huatulco (Bahia Sacrificios), Oaxaca, Mexico
Departure date and time: Tuesday, December 30, 2014 at 0900 (9:00am)
Port of arrival: Zihuatanejo, Guerrero, Mexico
Arrival date and time: Monday, January 5, 2015 at 1700 (5:00pm)
Total travel time: 7 days and 8 hours (176 hours)
Miles travelled: 368.1 nm
Average speed: 2.1 knots
Engine hours: 1439.2 begin – 1450.4 end – 11.2 hours
Fuel consumption: 4.5 gallons
Fuel economy: 82 mpg
Maintenance notes: Hose for the raw water system was damaged and repaired on our last passage. Oil checked. Batteries checked and topped up. Our starter battery is starting to look a bit sad – it doesn't really want to hold a charge.
Navigation notes: Lots of shipping traffic on this stretch of coast. Lots of fishing traffic as you near Acapulco.
Tides and currents: I've read that the current predominantly sets NW, but I've also read that the current switches with the tide. We found that the incoming tide sets NW and the outgoing tide sets SE.
Forecast: The forecast predicted light and variable the whole way. Land and sea breezes are the main source of wind on this coastline during this time of year. During the day the land heats up and wind from the SW fills in. At night the land cools down and the ocean maintains its temperature, so the wind reverses and blows from land (N/NE). Nothing over 10 knots was predicted.
Day #1 – December 30
Nothing short of perfection. After a moderately rolly night at Bahia Sacrificios and general feelings of restlessness, we are eager to get back out on the water. We find ourselves craving time at sea where options are limited, where we move slowly through the world, where a day is satisfying even when we can't recount what, in particular, we did, where time is full without filling it.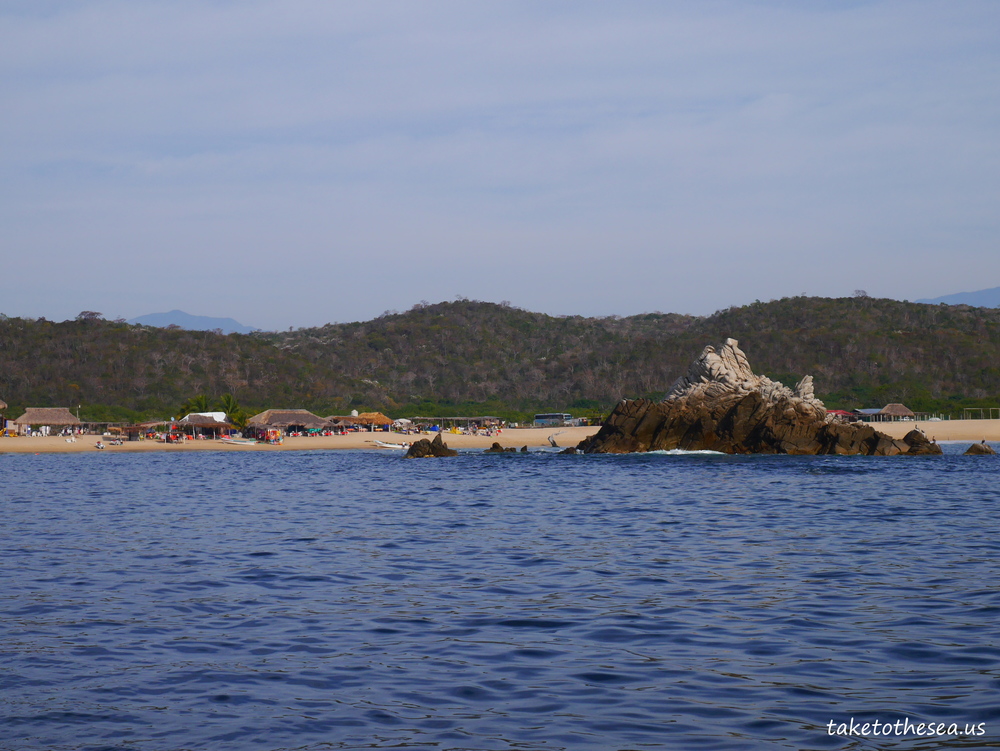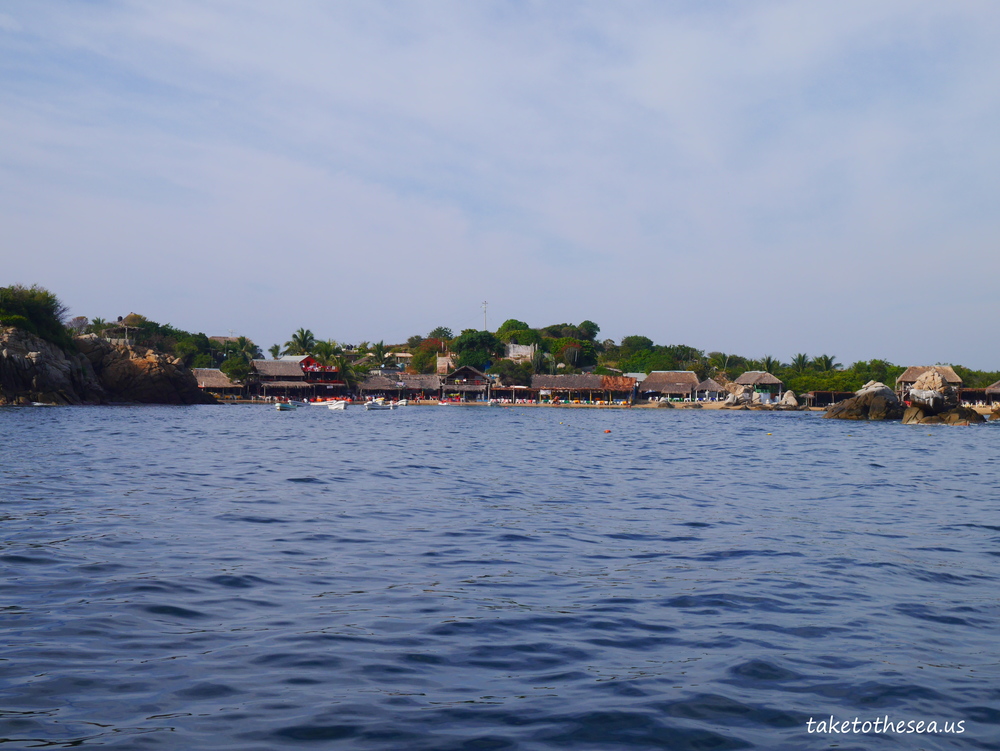 We motor out of Bahia Sacrificios and keep the motor on for the first hour with the hopes of catching a fish for lunch. That first hour does not yield a fish, but a SW wind materializes and when we raise the sails we are pleased to find that the wind not only keeps the sails full, but we are going a respectable 3 knots. I'll take it.
The hour that follows is a tour de force of the most stunning things the ocean has to offer. Pockets of skipjacks erupt at the surface, like a cauldron boiling, attracting birds that pierce the animated water. Manta rays explode from the calm patches and land with a pronounced splash. The wind builds steadily to about 10 knots and Serenity is now humming along at a little over 4 knots. The sweet spot. A pod of ebullient spinner dolphins running in the opposite direction entertain us with tail slaps and full body spins in long arcs over the water.
A humpback whale surfaces less than 100 meters from the boat to check us out, then immediately dives before I can retrieve my camera.
And just when we thought it couldn't possibly get any better, Jeff's rod bows out over the transom, the 100 lb test line plunging into the water. Fish on.
This fish is not going to surface without a proper fight. It continues to dive and Jeff's rod bends to pursue it. Over the next half hour Jeff reels in his small gains, slowly bringing the fish closer to the surface. Before we even saw it glimmer we were making big plans for this fish, starting with sashimi since we recently (finally) procured picked ginger and wasabi for such an occasion. I try hard to hide my disappointment when, upon inspection, the shape and markings look like those of a Crevalle Jack, the fish we caught along this coastline the previous year. Our fishing guide confirmed my suspicions. At the end of the entry it notes that the edibility of this fish is only considered to be "fair," owing to its dark red, gamey meat. This is especially true of the larger Jacks.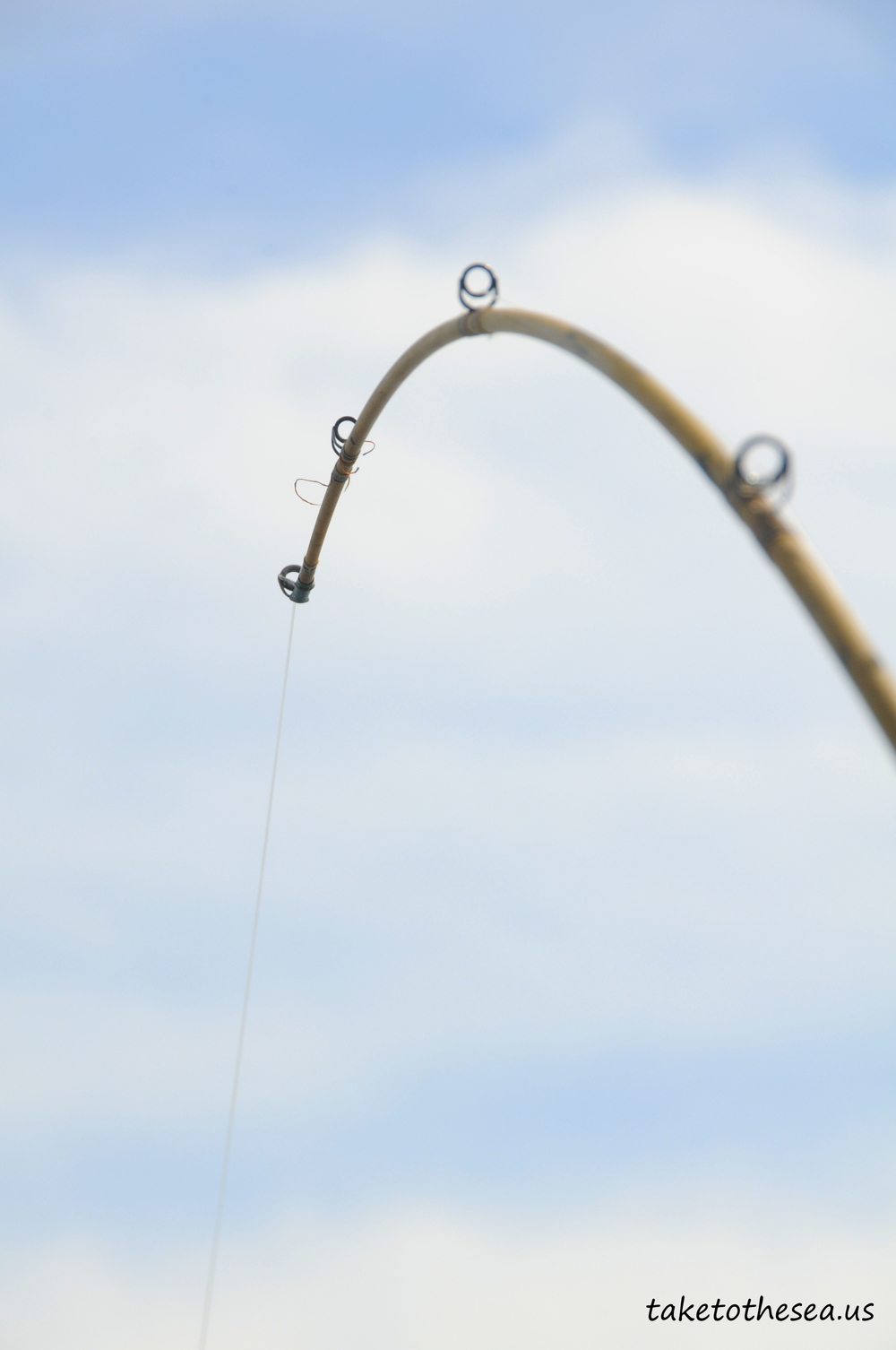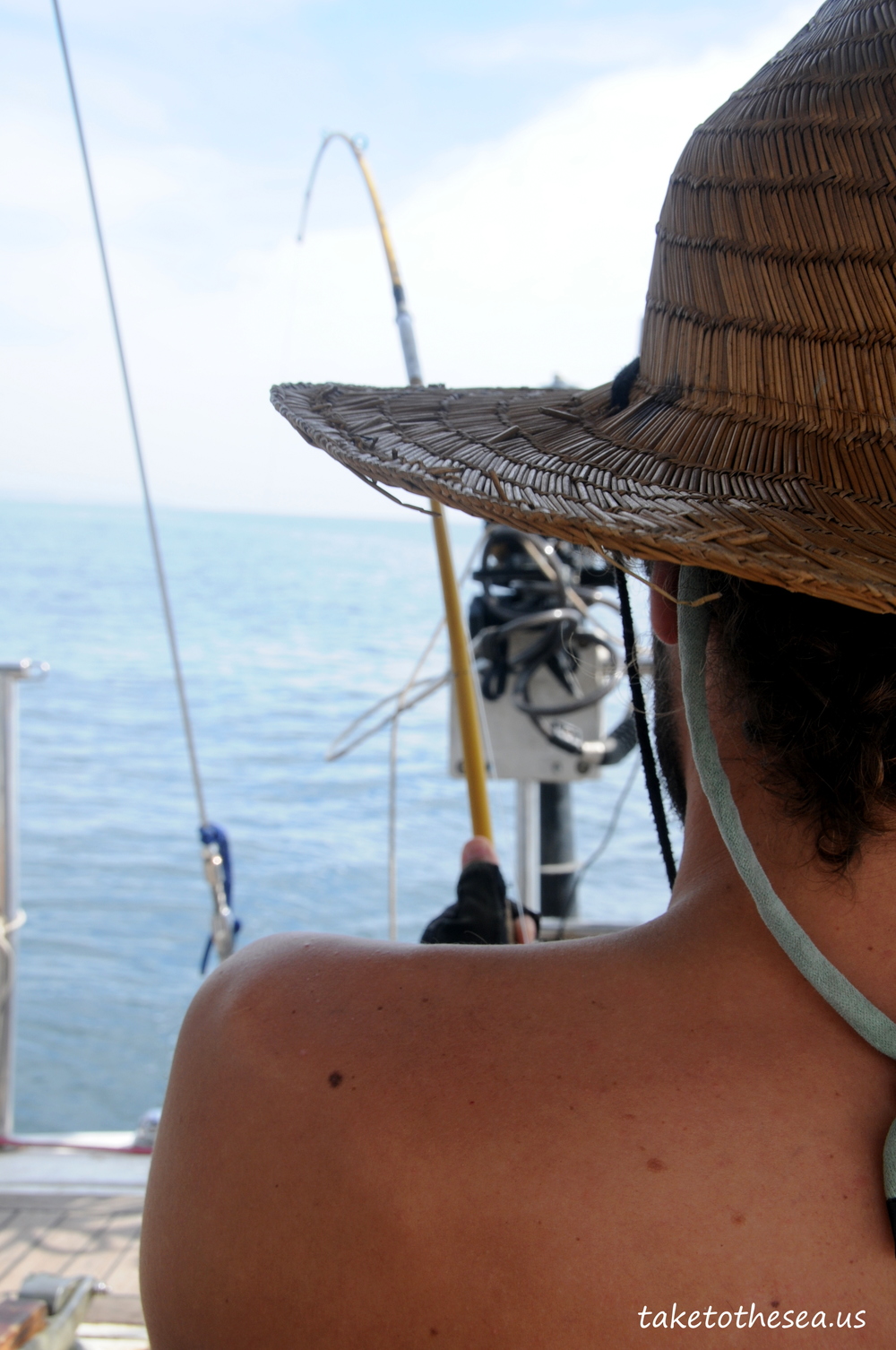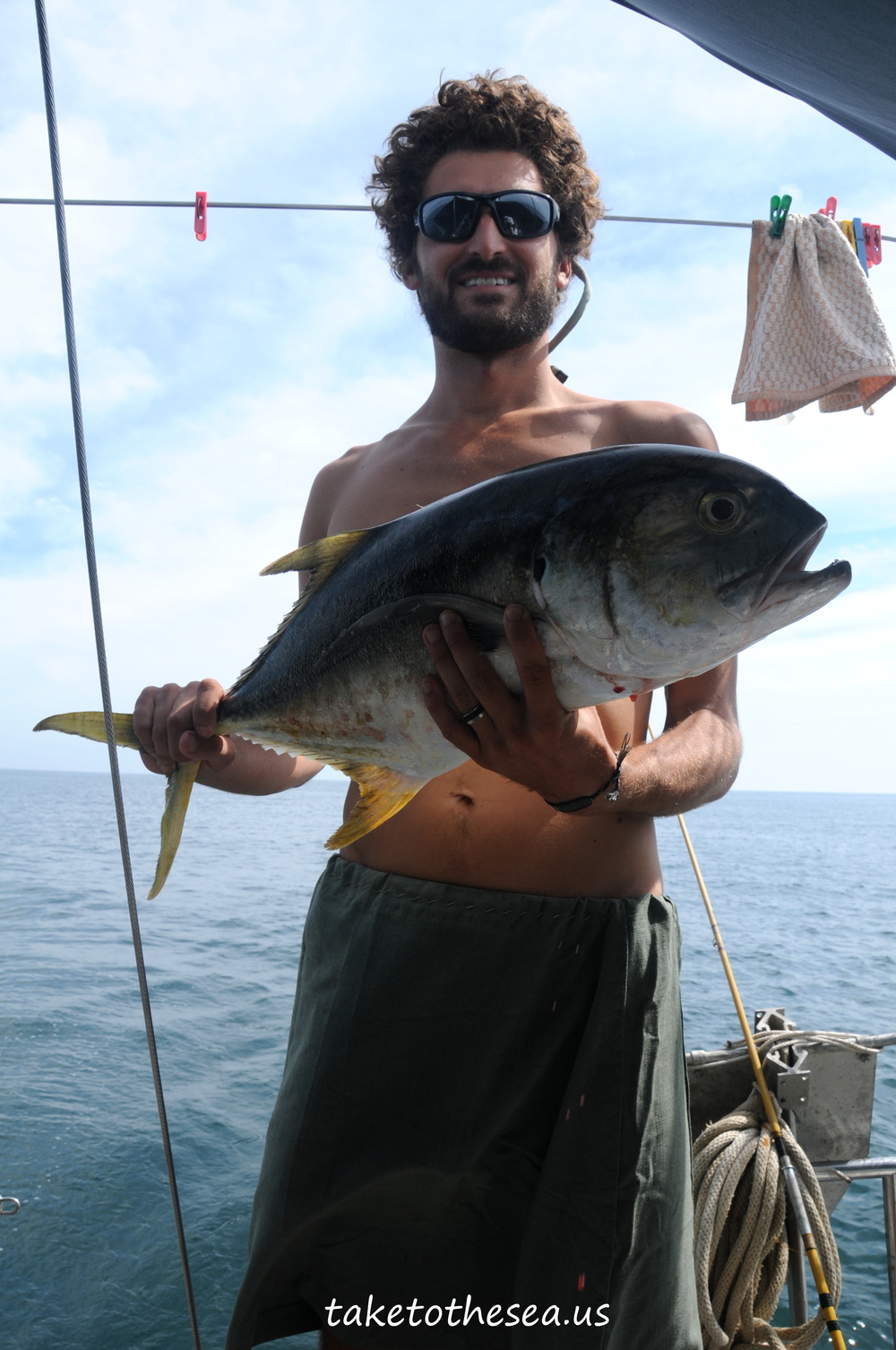 Despite this discovery Jeff is still very much excited, having conveniently forgotten about the last Jack we attempted to eat. We slit the gills and let it bleed behind the boat. It bleeds and bleeds and bleeds. The Jack sends pulses of red into the deep blue water for over 10 minutes…when we bring it back up on deck it is still bleeding. As life flees its body the skin takes on a bright golden hue with splashes of blue and in a moment of unreasoned hope we think, maybe it is a yellowtail after all? The first cut exposes dark meat. "Go get the fixings ready and I'll filet the fish. We're having sashimi!" Jeff exclaims as he sharpens his knife.
To our amazement and delight the sashimi is actually really really good. Since it was a big fish (in the 15-20 pound range – I'm basing this on nothing), we knew it would more than a two-mealer. We've been researching ways to preserve fish without refrigeration and this would put our skills to the test. We eat one quarter of the fish raw for lunch, one quarter of the fish goes into a delicious chili that night (this meat is well suited for chili – thanks for the suggestion Colin!), one quarter of the fish is salted and dried in the sun, and the rest of the fish is pickled to be used later in a stir fry.
All the business with the fish takes up most of the afternoon, 3-4 hours all told (including the savoring part). But we still have a lot of day left, so we attempt to stage a photo shoot under sail. We are now adventurers collecting samples for the Adventurers and Scientists for Conservation microplastics project and they have requested a picture that they can include with our profile. We like science, we like nature, and we hate plastic in the ocean. It's a match made in heaven. Plus, I quite like thinking of myself as an Adventurer (with a capital A)!
Back to the photo shoot. We have maybe two pictures of us together on the boat in the last 2.5 years – selfies are not really in our repertoire (much to Jeff's mother's chagrin – Hi Linda!). I specialize in sunrises and sunsets if you haven't noticed. I don't do so much in the people department. We haven't sprung for a selfie stick or a drone yet, so we go old school by attaching my camera to a gorilla pod and attaching the gorilla pod to the stanchions and activating the self-timer. The photo shoot is moderately successful. Not sure we found "the one."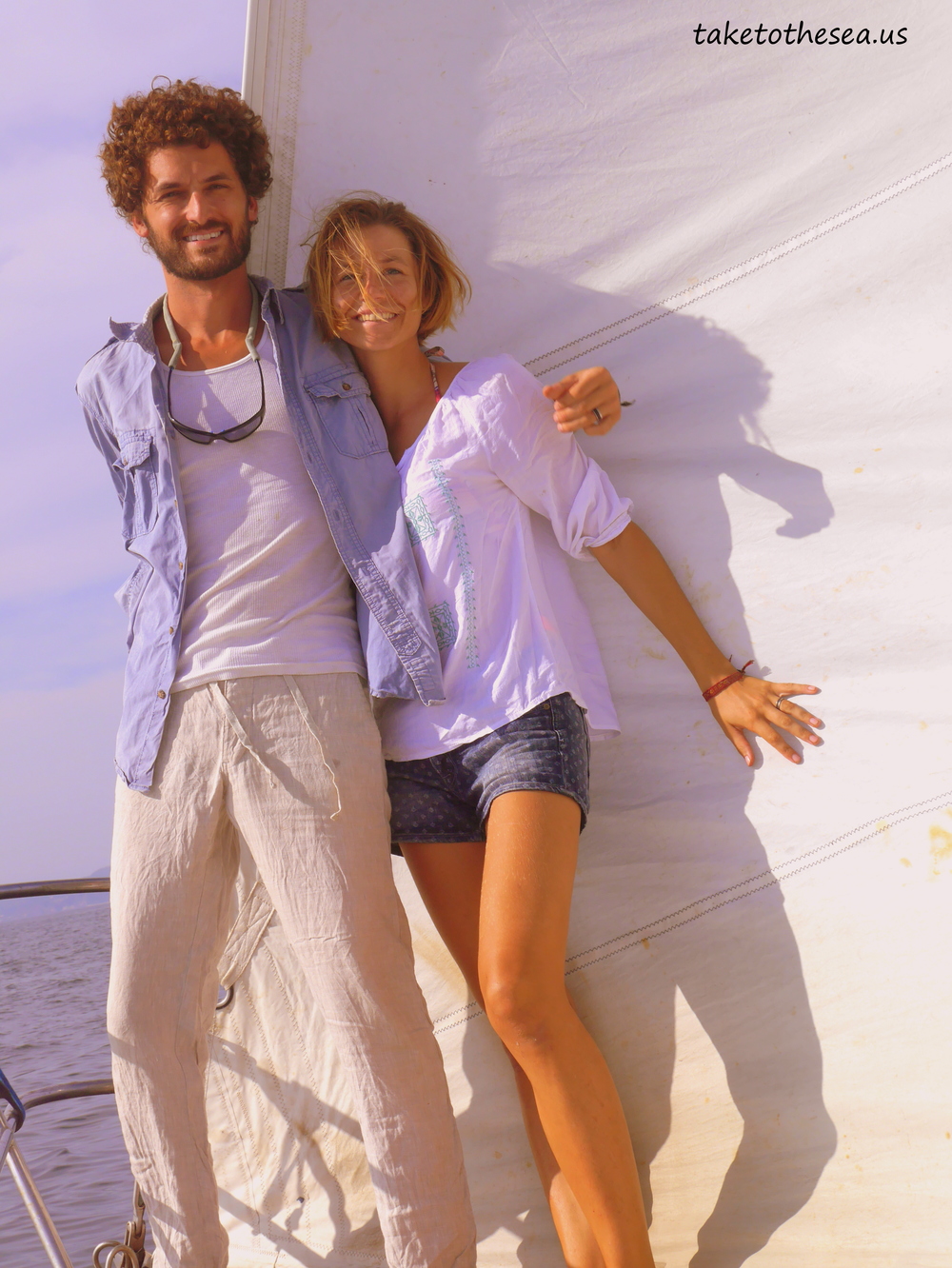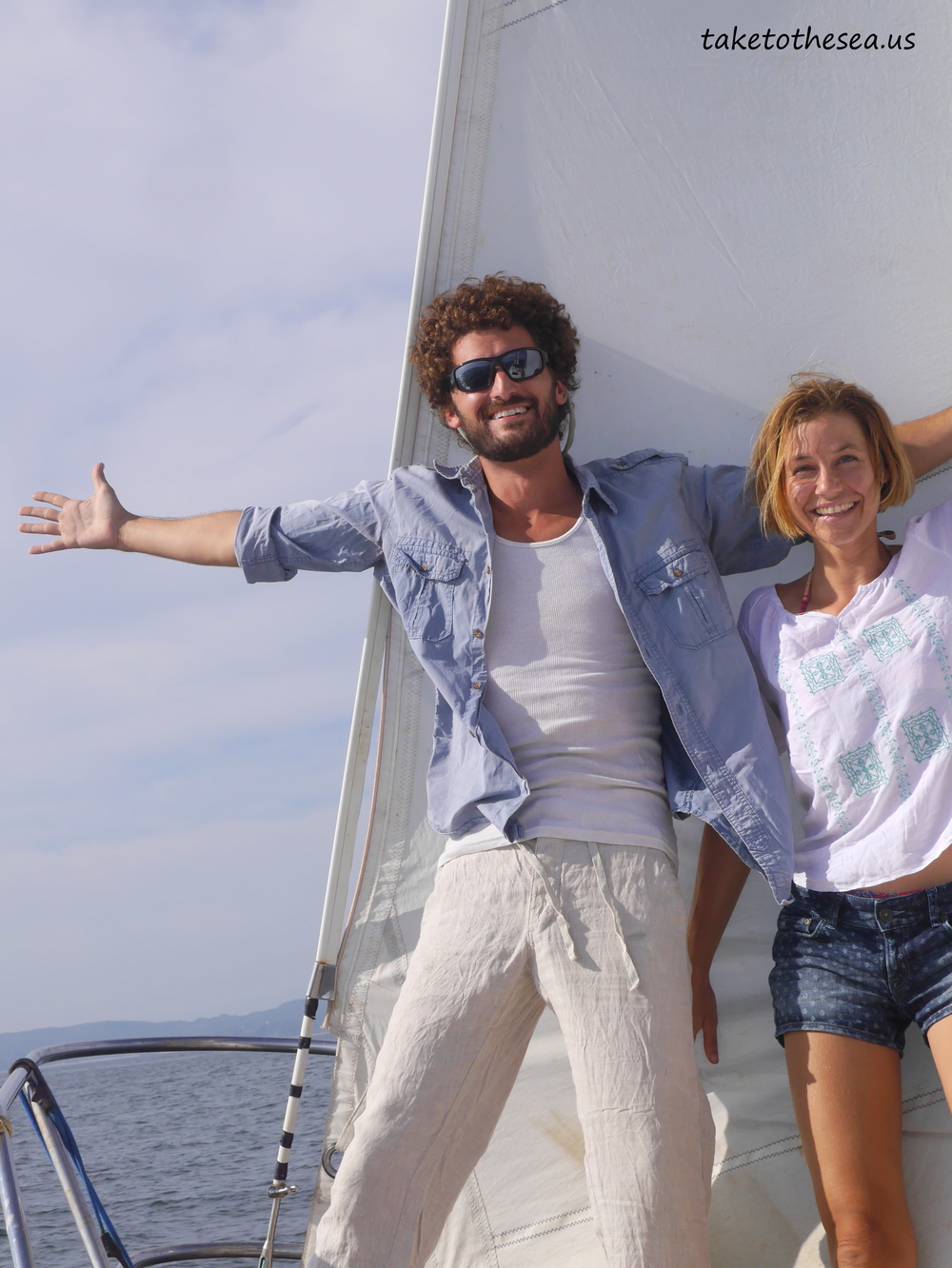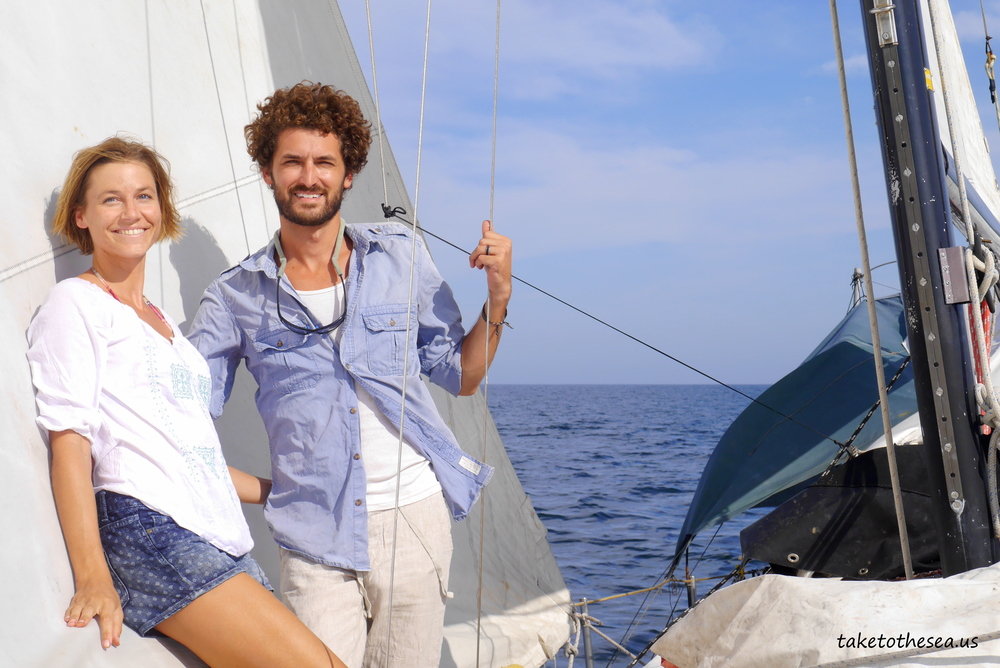 The remainder of the day is calm and relaxing. The wind is good for much of the day and our spirits are elevated by the full sails and bellies. What a glorious day!
Over the course of the night the wind lessens then spins around to the W, then the NW, allowing us to make decent westward progress. At some point during the night a large SE swell with short period sweeps in. Was it from the T-Pec?
Day #2 – December 31
What makes this morning memorable aside from the beautiful sunrise, is the marlin that repeatedly pierces the sky and skips along the water towards the rising sun. Also, we're still sailing. I love waking up to wind. The wind remains at our side or back for most of the morning, which is most excellent. It spins around to the SW in the afternoon then clocks around to the N at night. All in all a nice day of sailing with only about 2 hours of no wind.
Not much really happens to day. Reading…writing…relaxing. Good day.
Tack spends most of the afternoon trying to extract meat from the tail of the fish that we may use as bait (if we find ourselves in the mood for more fish). He's also scavenging for tiny scraps of meat that dried and stuck to random surfaces in the cockpit. He can't get enough.
Munching on some fish jerky. Not bad. We're saving the pickled fish for tomorrow. We don't want to go overboard with the fish. Har har. Three meals in a row is enough for now. Tonight it's mac n cheese with Chef Boyardee Beefaroni (a delicious, salty, satisfyingly unhealthy combo).
New Year's Eve. We celebrate with a can of warm fizzy water and a spectacular moonrise.
Day #3 – January 1
A frustratingly slow and HOT day. No wind – zero, nada – during my morning shift. The wind dies completely when I come on watch and stays dead pretty much all day. I spend all morning grumpily trying to escape the sun and heat. I hand steer in no wind for over an hour just to keep us at a comfortable angle to the swell…which is sometimes possible, sometimes a lost cause. Sweat is cascading down my body.
Between the hours of 6am and 6pm we make about 6 miles of progress. That's a ½ mile an hour average. Consequently, I am in a mood…I'll let you guess which one. Tomorrow if there's no wind, I might motor.
Lots to see: turtles, dolphins, birds, fishing boats. Lots to do: reading, writing, swimming, data collection for the microplastics sampling project. A realy party aboard Serenity. It actually turns out to be a pretty good day, despite the heat and slow progress and the mood.
Lots of freighters along this stretch of coast. I wonder if they're coming in and out of Lazaro Cardenas? It's the next big shipping port just past Zihuatanejo.
The salted fish jerky actually tastes pretty damn good when rehydrated with some water and barbeque sauce. Delicious wrapped up in a tortilla with onions, cabbage and media crema. Pickled fish for dinner tonight. One word: rough. I clearly don't know how to pickle fish yet. I just used straight up vinegar and salt. We both choke it down. Well, I choke it down; Jeff insists that it isn't so bad. He's either incredibly sweet or all that hot sauce has killed his taste buds. I wonder if I can preserve the fish in oil next time?
The wind finally arrives around sunset, form the east-ish. Light, but enough to keep the sails full (which is really all that matters to me anymore). The wind stays on our rear starboard quarter all night long allowing us to make at least a little progress… about 22 miles.
Day #4 – January 2
Naturally the wind dies when I come on shift in the morning. It dies at precisely the moment my bare feet touch the cockpit floor. I decide to motor for a couple hours to charge up our house bank and electronics. I linger at the bow after taking the jib down. Everywhere jelly fish pulsing in the water. A veritable buffet for the turtles. The bow pushes forward through thousands of glowing blue dots, clustered like galaxies, extending as deep as I can see. Two sea snakes, bright yellow, skitter out of Serenity's path. Little bugs skate on the surface of the water. The longer I stare at the ocean, the more wonderment I experience. Looking at the ocean evokes the same wonderment as looking at the stars and imagining the many life forms that surely exist beyond our view. An entire universe below us.

I motor for about 3 hours until some wind from the N arrives. Between 6-8 knots. Wonderful sailing. Happy girl.
Fishing poles out. Jeff and I agree that we're not quite ready for another Jack. White fish or no fish today. Jacks are a once a week fish for us. Tack would be pleased if it were an everyday fish. He's enjoying the fish jerky long after we are able to.
Two Dorados bite down on Jeff's lure, despite the fact that we are only going between 2-3 knots. They put on quite a show, leaping high out of the water after they have felt the sting of the hook. The first one breaks the hook. The second one nearly breaks the pole. I guess our gear isn't good enough to land a Dorado. Something on my line too, but when I reel it in my line resembles a birds nest. I have no idea how it got so tangled. It takes an hour to untangle it.
Over the course of the day the wind spins around to the SW, then back to the N/NE. Full day and night of sailing. Couldn't ask for a more lovely day.
Jeff and I have run out of things to talk about for the time being. We just can't bring ourselves to rehash the conversations we've rehashed so many times before. Most of which revolve around what life might look like when we get home. And the only answer that really makes any sense at all is: who knows?
Reading. Games. Naptime. Silence.
Hojaldre (Panamanian fry bread) with beans, rice, tomato, onion and cabbage for lunch and dinner. Delicious both times.
Waxing moon! Bright nights! Lots and lots and lots of dolphins!
Had a difficult time sleeping. Kept thinking about those who have passed. Telling stories about them in my head. Perhaps someday I'll write all these stories down. In the meantime I replay everything I can remember. My biggest fear is forgetting.
Day #5 – January 3
There is still wind! Halleloo! Blowing from the N/NW – great heading and decent speed. A glorious waking.
Last night I dreamt that my mom pulled up alongside our boat in a car packed with at least ten strangers. She promised me the following: a walk in the woods, followed by a hot shower, followed by an afternoon in a cozy coffee shop. I hopped in the car of strangers and she delivered on the promise. My dreams are pretty transparent these days.
Before going down Jeff asks me to try to listen in/check in to the Amigo Ham Net on 8122 USB and the Sonrisa Ham Net on 3968 LSB. I spend some time futzing with the radio but don't hear anything on 8122 – just lots of noise. Wasn't hearing anything on 3968 until I realized I was still on upper sideband and needed to be on lower sideband (my apologies to those of who know zilch about radios). I succeeded in checking in despite low battery power – a very good sign. During the middle of my check-in Jeff calls out from the v-berth "I think I hear yelling outside." I drop the mic and race up to the cockpit. There's a small fishing boat to starboard. We aren't on a collision course, but they're hollering and waving. Suspecting that they are trailing nets in the water I turn further to starboard to pass in front of them. They are anchored. No nets out. They just want to makes sure we see them. "Todo bien? / Everything okay?" I call out. "Todo bien! / Everything's good!" They respond. It's not long until they're a speck on the horizon again. I'm not sure how I failed to see them.
Coffee. Yum. Finish my book. Winter in Fireland. A travelogue from a couple who sailed through Patagonia. A decent read. I appreciate his appreciation of history. It's one of the things I feel I've been lacking on our own trip – a deep historical context for each of ports we visit. I'm reading as much as I can, when I can…but I barely keep up. There's so much still to know.
When Jeff gets up late in the morning we unleash our inner hedonists and let them wreak havoc on the snack bin. Why do we always deny ourselves the good stuff?The potato chip ration has been lifted and we devour an entire bag quickly and with glee. Our potato chip fest is set to the musical stylings of Katy Perry.
We are seeing lots of signs of civilization along the shore as we near Acapulco. Homogenous boxy white developments stand in contrast to the textured, vivid landscape that embraces Acapulco. My lens is drawn to the contrast.
There's also lots of traffic on the water. We haven't seen this much non-commercial traffic in a long time. Motor boats, sail boats, kayaks. Loud music reverberates out to us from resorts clinging to the hillside; the rocks serve as an amplifier.
Jeff notices a school of fish chasing Serenity: dashes of silver and gold swerve and dip and dash in her wake. I grab my camera, Jeff grabs his pole. We're hoping it's a school of yellowfin (hopeful much?). Once I put my camera down and dip my hook in the water, we both get bites. Boom – one, two. Jeff gets his fish in. A Crevalle Jack. We're not ready for Jack #2 yet. Or Jack #3 for that matter. It's likely that mine will be the same. It is. We let them both go. No fish for dinner tonight. Looks like an apples and popcorn night, which is okay by us.
Acapulco is beautiful, especially lit up at night under a full moon. We're able to check email up to 4 miles offshore. Technology is crazy. Jeff got an email from his old company. He might have an opportunity to do some work when we get into port. Looks like we might stay put for awhile. Plans are made to be broken.
We've been trying to make sense of the currents. They're definitely influenced by the tides…but we can't tell if it's the incoming or outgoing tide that's helping us?
Day #6 – January 4
The best sunrise. A sunrise that just keeps on giving and giving. Just when you think it can't get any better it goes ahead and gets better.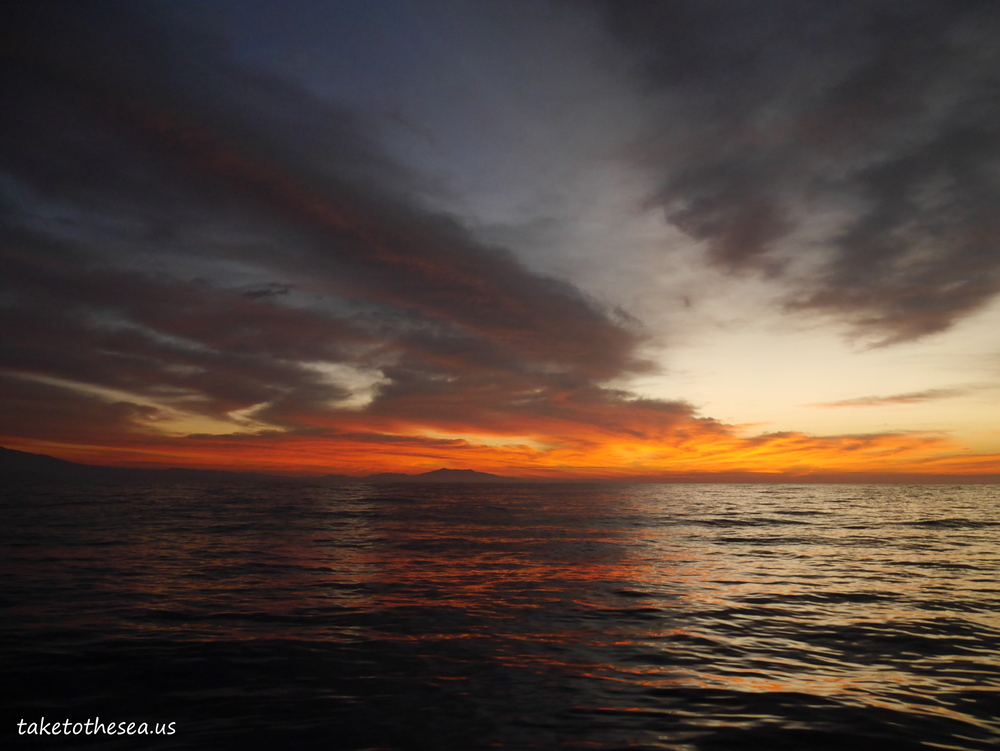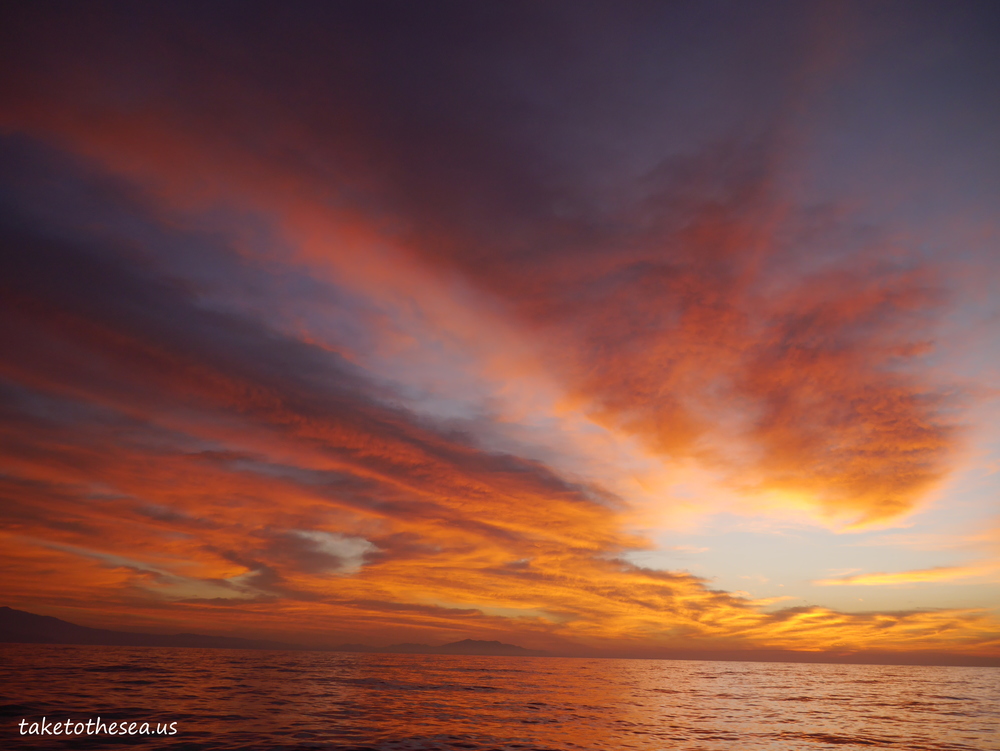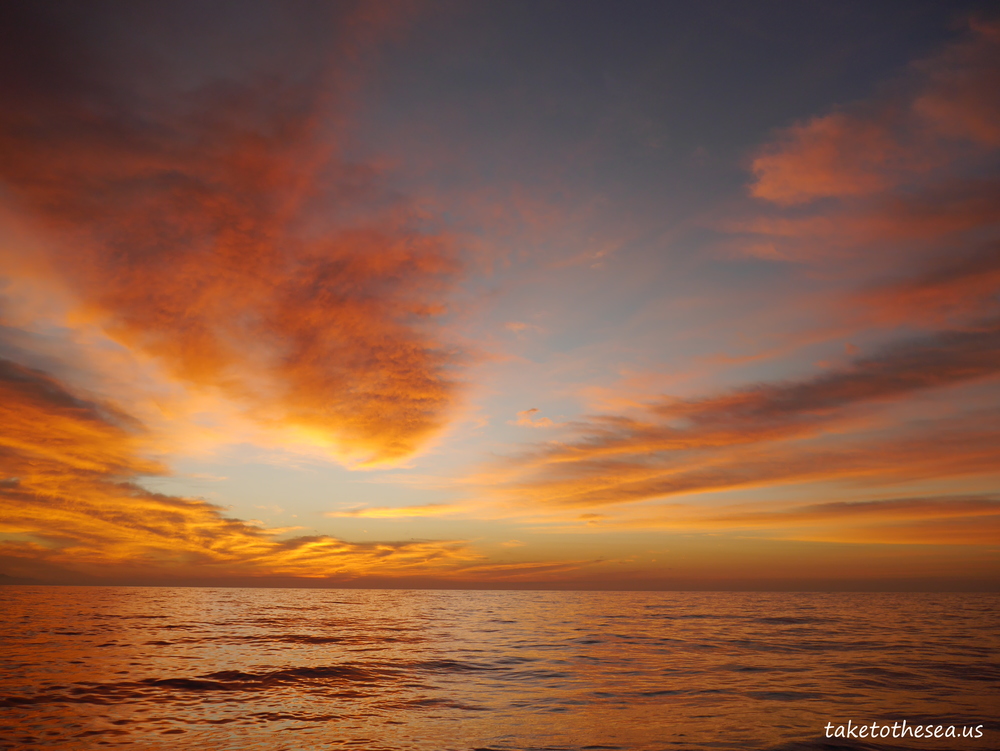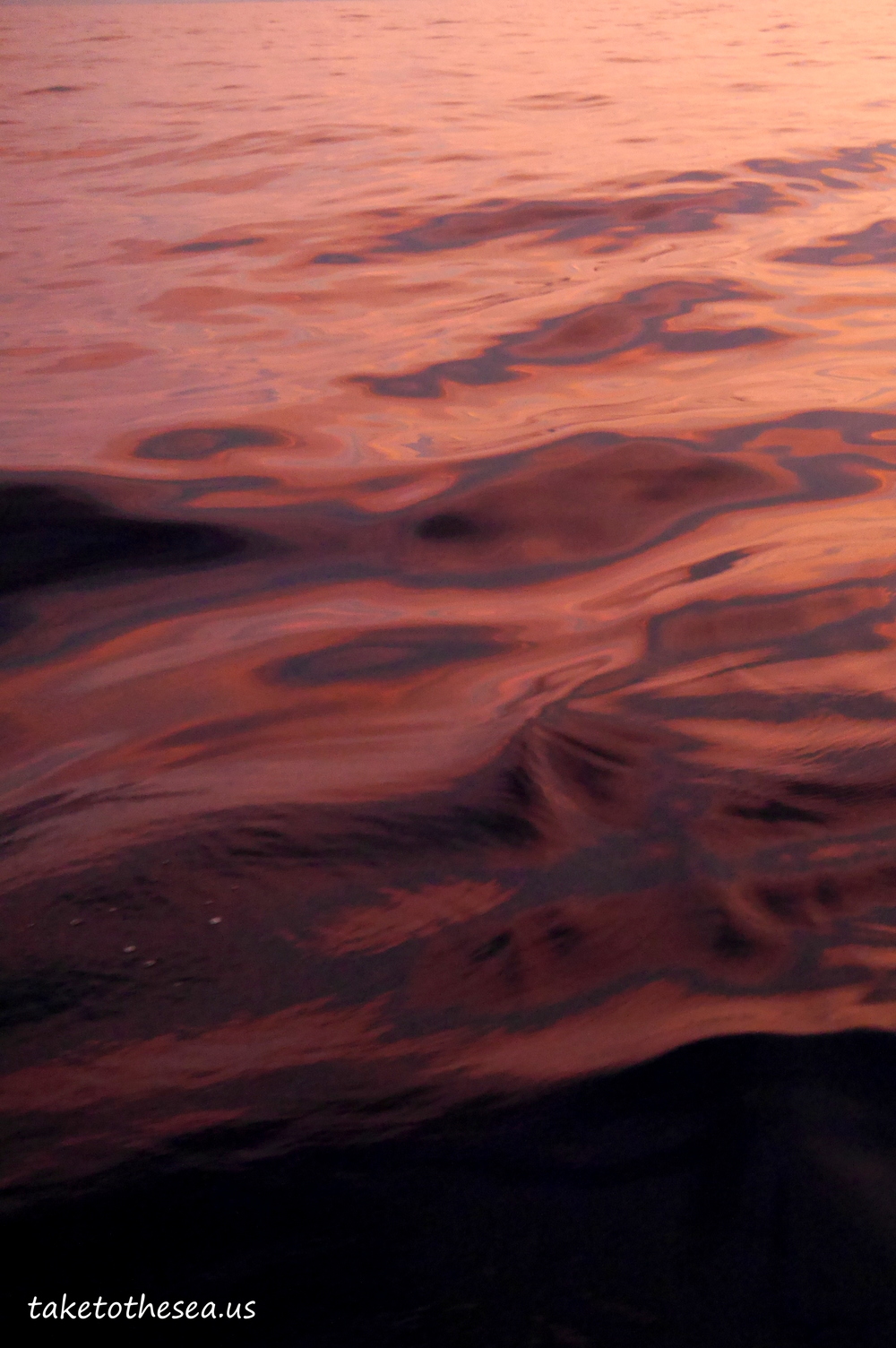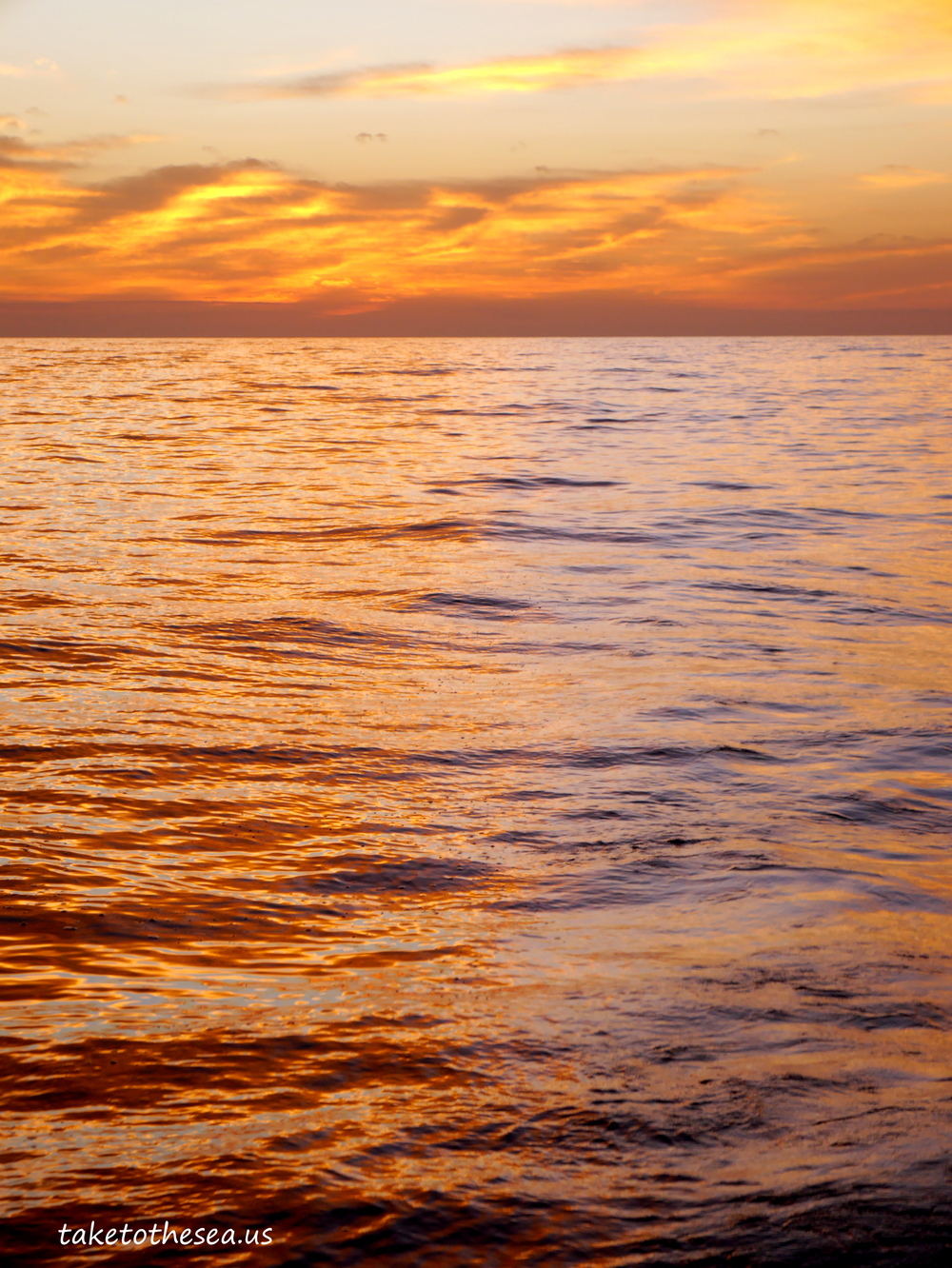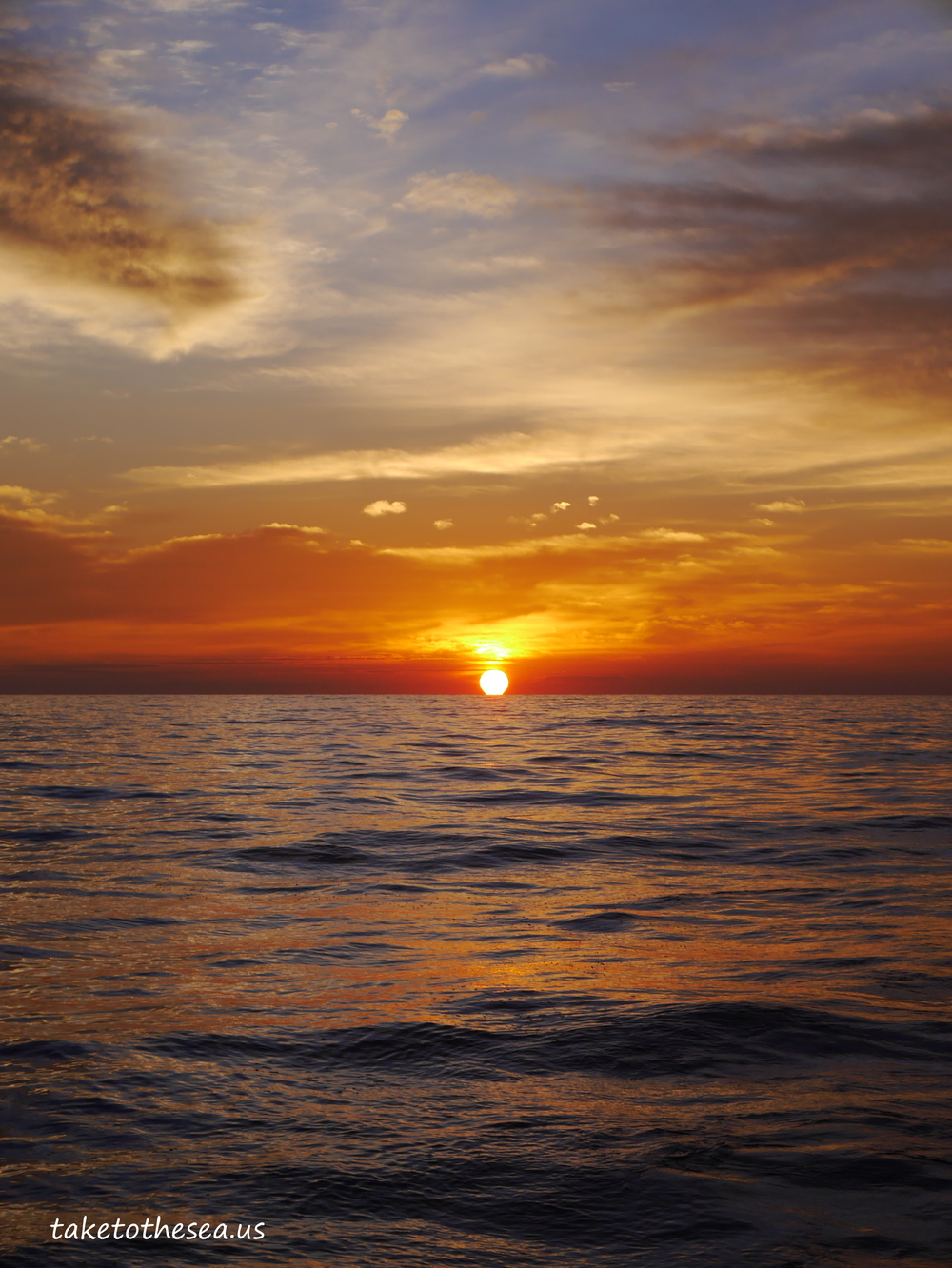 By now the wind seems kind of like clockwork along this coast line, with the occasional exception:
7am – 10am – More or less dead, though sometimes a N wind if we're super lucky
10am – 1pm – Still dead, though sometimes we'll get a light SW wind as the sun heats up the land
1pm – 5pm – SW wind slowly builds and moves W
6pm – 7pm – Wind starts to die out
7pm – 9pm – Very light and from variable directions
9pm – 12am – Still light and variable, though most likely coming from the NE, N or NW as the land cools down
12am – 6am – Light winds from the NE, N or NW for most of the night
Classic land and sea breezes. The land and sea transferring a shared breath.
We haven't seen wind over 10 knots on this entire passage. As per the above stated schedule, the wind dies in the morning and we spin around in circles giving each solar panel their respective time in the sun. I move around the cockpit trying to escape the hot rays. In the moments when we're broadside to the waves I brace myself and cast about for objects that will surely go flying if the pendulum persists. Perhaps we should motor for a spell?
As we're motoring I see a panga full of men rush towards us waving their arms. That's when I notice a pop bottle, strung up in a long line of pop bottles. The plastic bottles are buoys, not trash as I'd previously thought. I take the motor out of gear and drift over the line. It get's caught around our keel and just as I prepare to dive on it, one of the men in the boat cuts the line. He retrieves both ends and ties them back together. A genius solution. I thank them, apologize profusely and wish them luck. Jeff is beginning to doubt my watch keeping skills.
The water is so blue. I wish I had a word for this color. Cerulean?
Loving the new book I'm reading. High Tide in Tucson by Barbara Kingsolver. I marvel at how well some people seem to recall their past, their youth – with a certain amount of clarity I can only dream of. When I think of my youth it belongs to someone else, not me. I'm not the person in my memories.
Low key day. Not much to recall. My journal is full of random musings like the one above. I would share them with you, but most of them don't make much sense to me, let alone to a total stranger. From these words, raw materials, I may choose to construct a cohesive story one day. For now, much of it is pure observation, uncurated thoughts and reflections.
Dinner of hojaldre (fry bread) tacos again! Maybe my new favorite meal. Filling and deeply satisfying…the way only deep fried food can be satisfying. What I wouldn't give for a funnel cake.
Mystery solved! The incoming tide gives us a boost! The outgoing tide works against us.
Day #7 – January 5
The wind was a trickster today, probably because of the cloud cover. A little wind would arrive, we'd get excited and raise sails…then it would switch or die and the sails would flog until we decided to take them down at which point we would either drift or motor. About a half hour after deciding to motor, the wind would inevitably return and we would debate whether or not we should raise the sails again. After enough hemming and hawing we'd turn off the motor and raise sails…only to find the cycle repeating itself. This went on pretty much all day.
When I take my first shift we only have about 20 or so miles to Zihuatanejo, but our progress all day is laughable. We had been overly enthusiastic in the morning about the mileage: We only have 20 miles to go and it's only 6am! We should for sure be able to get there in the next 12 hours…that's less than a 2 knot average. At about 4pm we are still 8 miles away and sunset is just around the corner. Time to motor.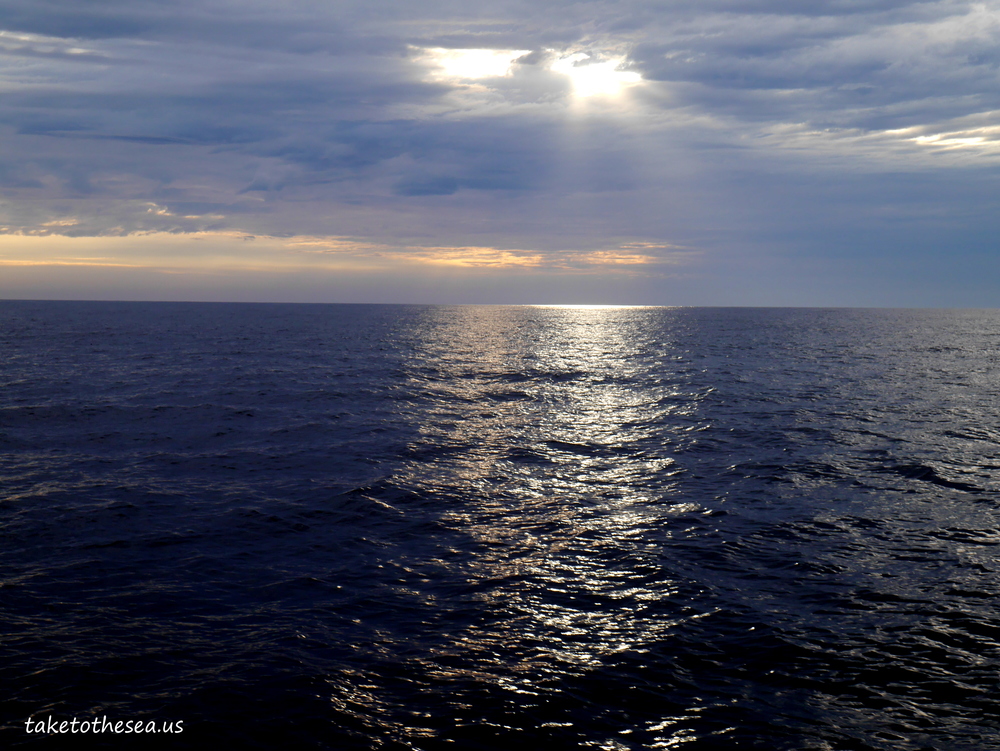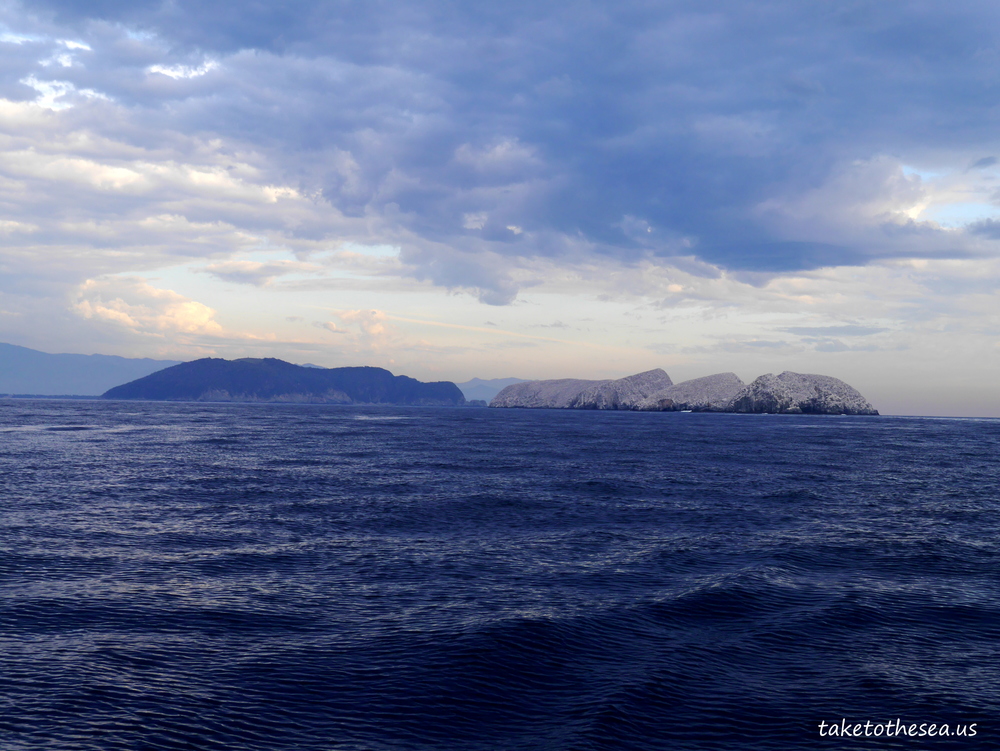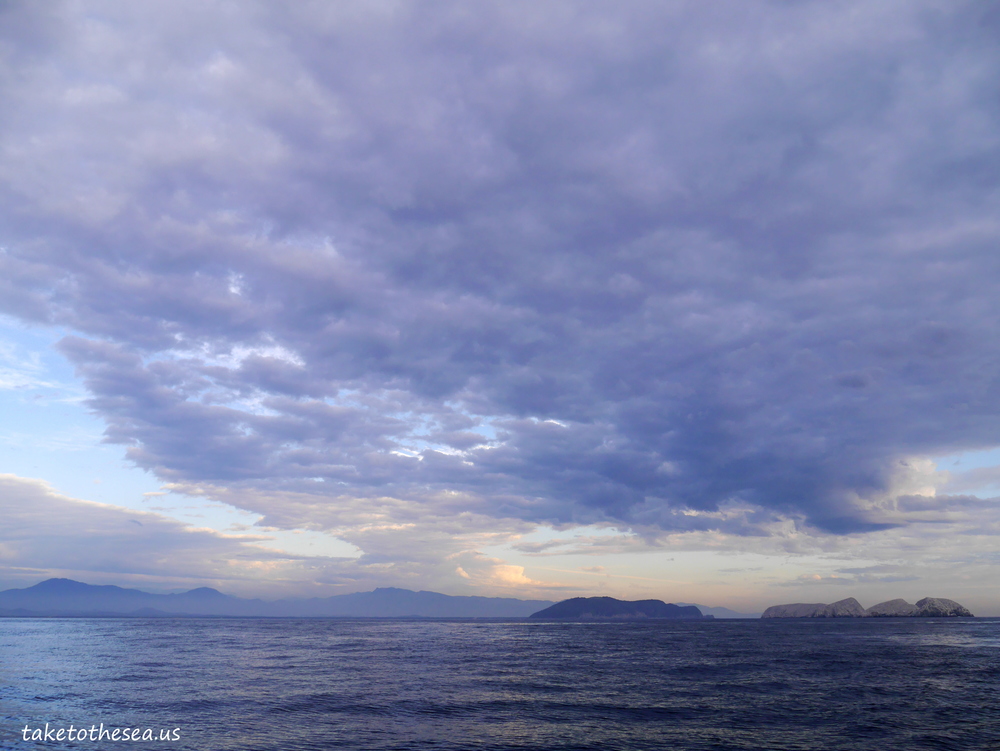 The town looks much bigger than we both imagined. A lot of the guide books describe Zihuatanejo as a "small" or "tranquil" "fishing village." While I won't dispute that people here fish and make a living off of fishing, I'd venture to say it's predominantly a tourist town now. At least the hotels and luxurious homes perched on the hills would suggest as much. The bay is stunning, guarded by cliffs and fringed with beaches.
We pass a little hobie cat that bobs, barely moving in little to no wind. The tour guide pulls out a paddle and begins to row as his passengers enjoy the scenery and sunset. That's a long way to row. We offer them a tow, but he declines.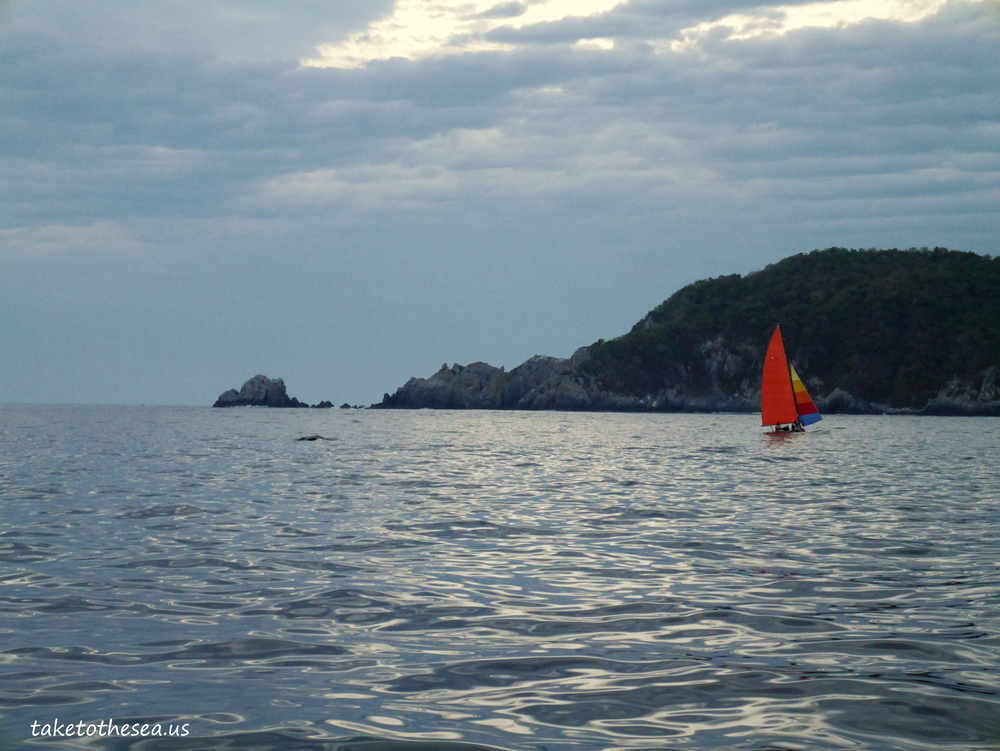 Once the anchor is down and the sails are packed up, Jeff meets me on the bow with a cold bottle of IPA to enjoy the last of the sunset. He was thinking ahead and turned the fridge on for the last few hours of motoring. Smart man. We sit on the bow passing the bottle back and forth and find that we are quickly lost in conversation. Words, like wind, always fill in if you're patient.