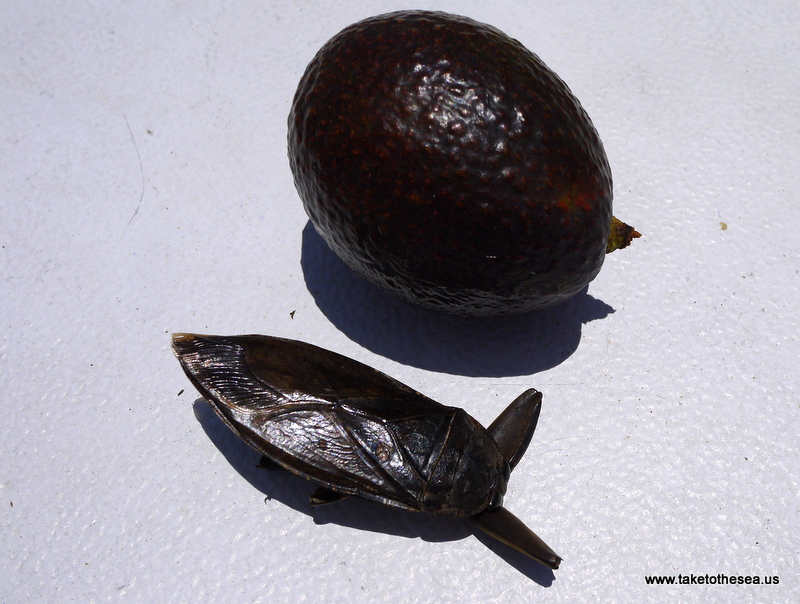 The creature that Jeff discovered aboard Serenity. I originally thought it was a cockroach and wasn't too relieved when I found out it was actually an aggressive, predatory water beetle (they've been known to eat baby turtles and stab people's feet). Jeff threw away the second (larger) one before I could see it (or freak out about it). This beetle is next to an avocado for reference – still gives me the creeps.
It's no mystery that this month was all about boat work – doing boat work, recovering from boat work, escaping boat work, getting up the energy to do more boat work. I'm tempted to officially declare September "boat work month" – a month where we dedicate every ounce of spare time and energy to checking things off of our list (a list that has been steadily growing for the majority of the year). It's been a tradition for at least 4 of the 5 years that we've owned Serenity (one of the few traditions we have).
When we weren't working we made time to go to the beach or hang out with our friends on SV Moondance (the only other folks at the marina for the summer). We originally planned to leave Mexico by the end of September, but we kept adding things to the list and I decided that I ought to knock some things off of the "Harmony list" as well, like dental work (can't let Serenity get all of the love up in here). Even though we both had itchy feet, we stayed past our originally planned departure date and managed to find more things to keep our schedules full. It's really a good thing that a) both Jeff and I like to work a lot and b) that we can withstand the stifling heat here in Mexico. 
All in all a good month.
0 … miles traveled by boat
351 … miles traveled by plane (Portland to Atlanta to San Salvador)
329 … miles traveled by bus (San Salvador to Tapachula)
12 … hours in transit fro San Salvador to Tapachula
36 … items checked off of our boat list this month (including projects both large and small)
50 … liters of old diesel discovered in what we thought was an empty (and perhaps leaky) stainless steel fuel tank (neither of which turned out to be the case)
4 … times Jeff hauled me up the mast to either inspect, disassemble or reassemble our backstay
5 … showers required for Jeff to get the itchy fiberglass off of his man parts
4 … the number of pineapple and rum drinks that can render me completely useless for the better part of a day
2 … shots of rum in each of the aforementioned pineapple and rum drinks (turns out)
95 … degrees, the hottest tmperature we clocked in our cabin this month
37 … average millimeters of rainfall in September in Tapachula (14 inches)
5 … trips to the beach to escape the heat in our cabin
6 … beers we usually go through when we visit the beach nearby (it's how we keep time)
2 … the number of giant water beetles discovered by Jeff on our boat
4 … mice that Tack brought home for us
1 … mice that were still alive when Tack brought them home
48 … days that the teachers of Mexico have been on strike in protest against the policies of Mexican president Enrique Peña Nieto (without pay )
1/3 … revenue for the Mexican government that comes from taxes and fees on oil and gas