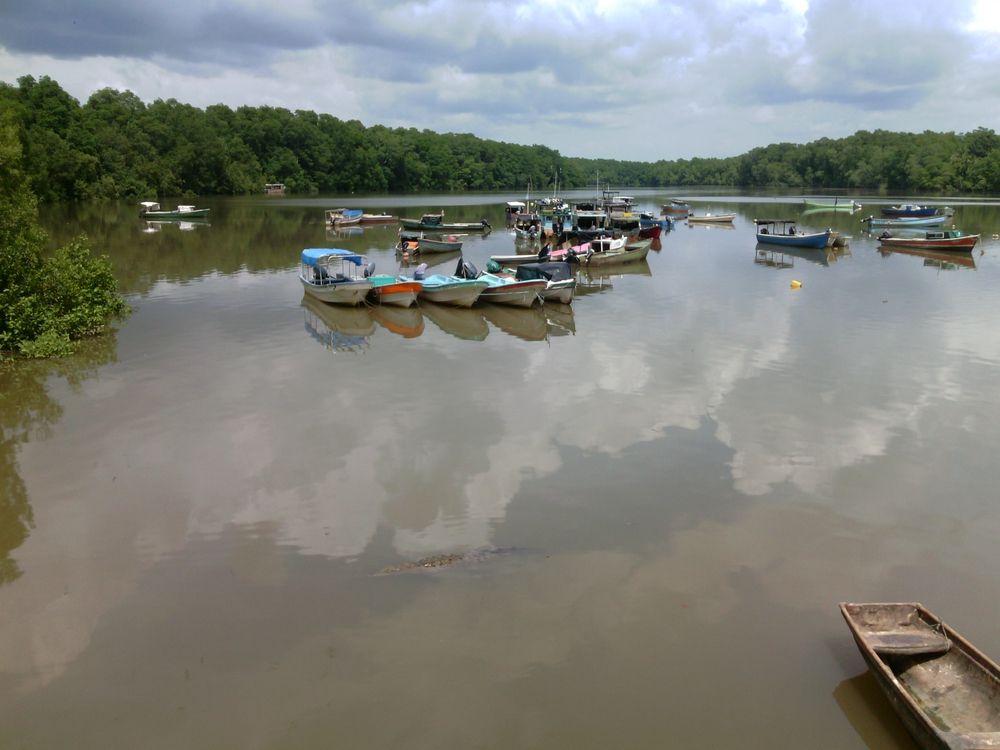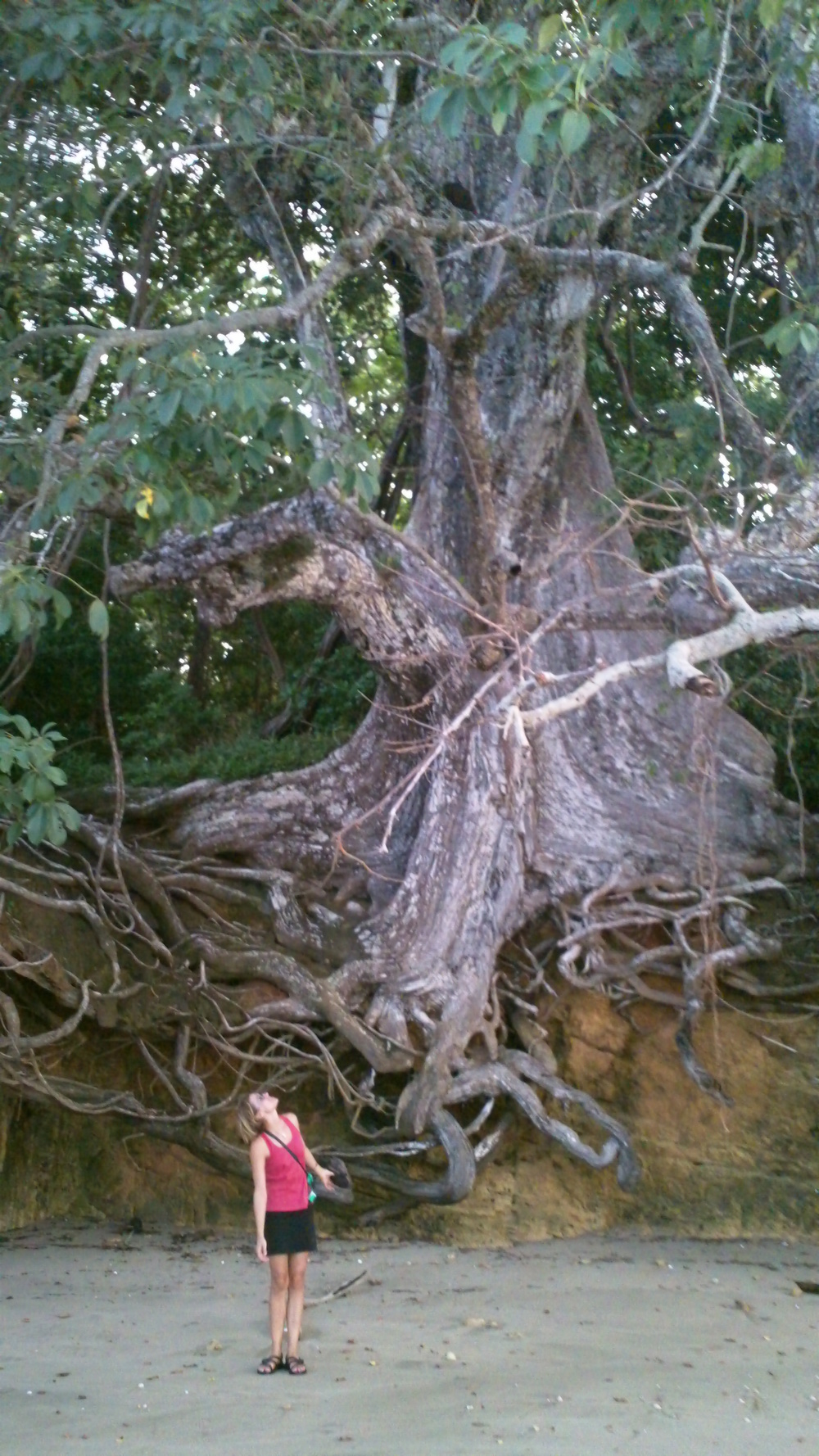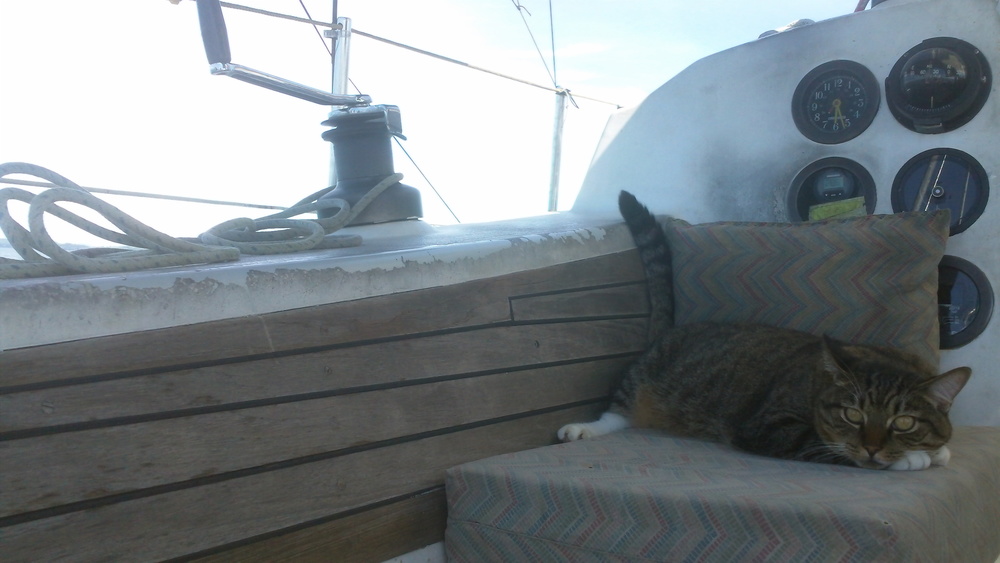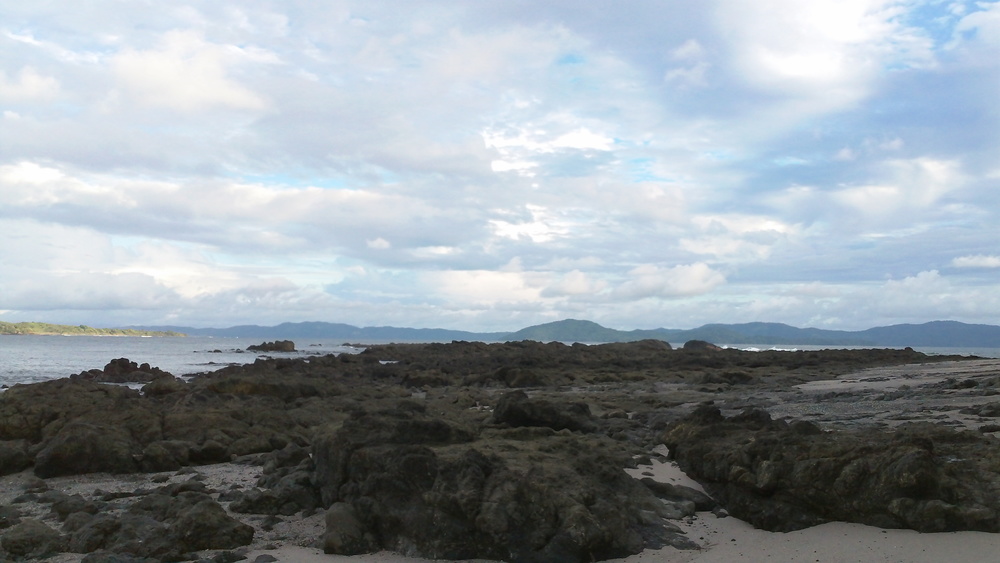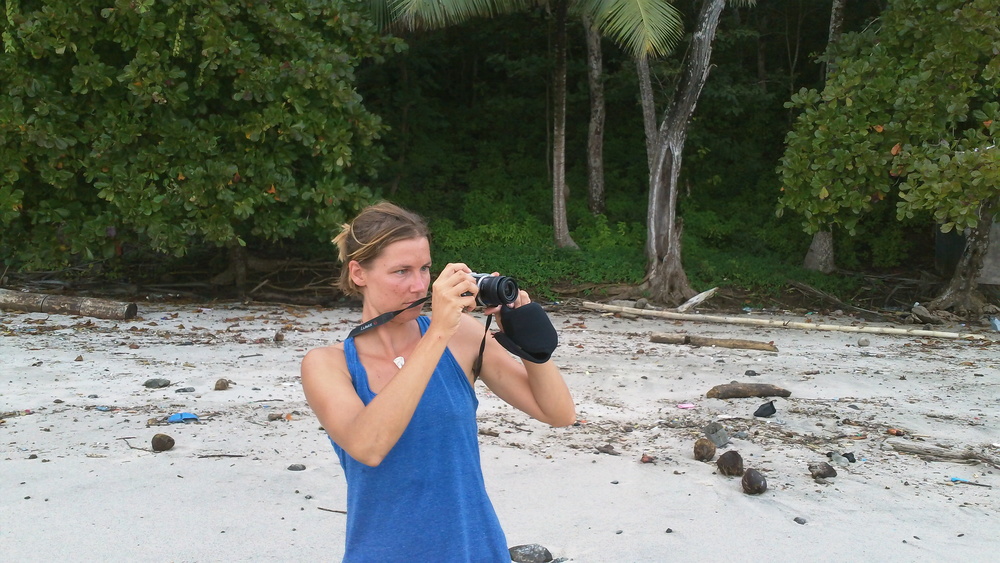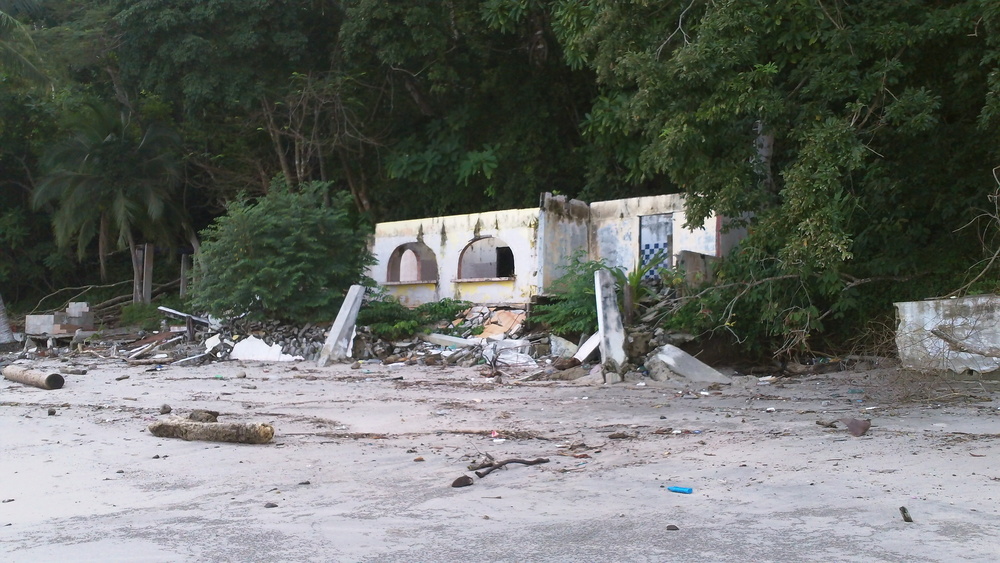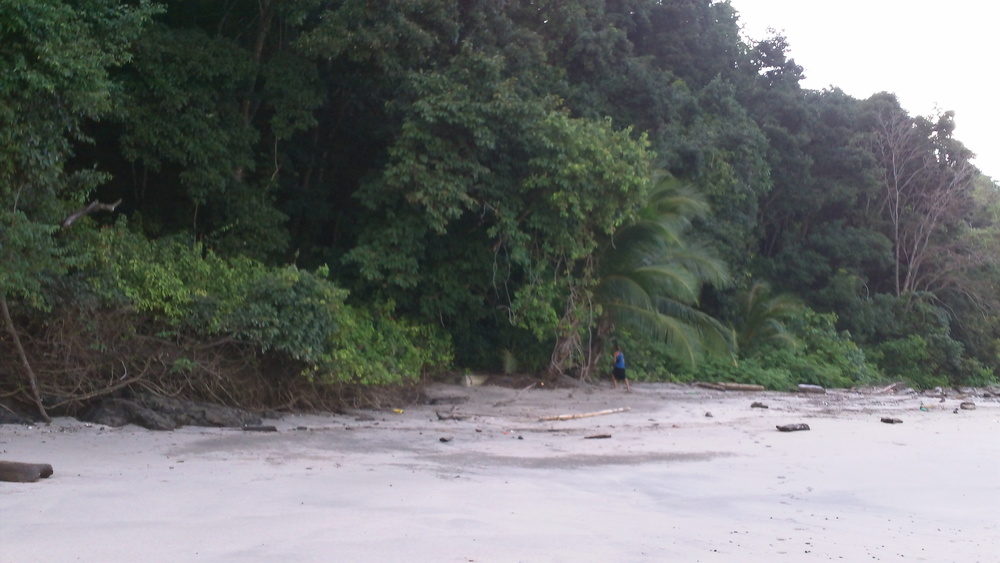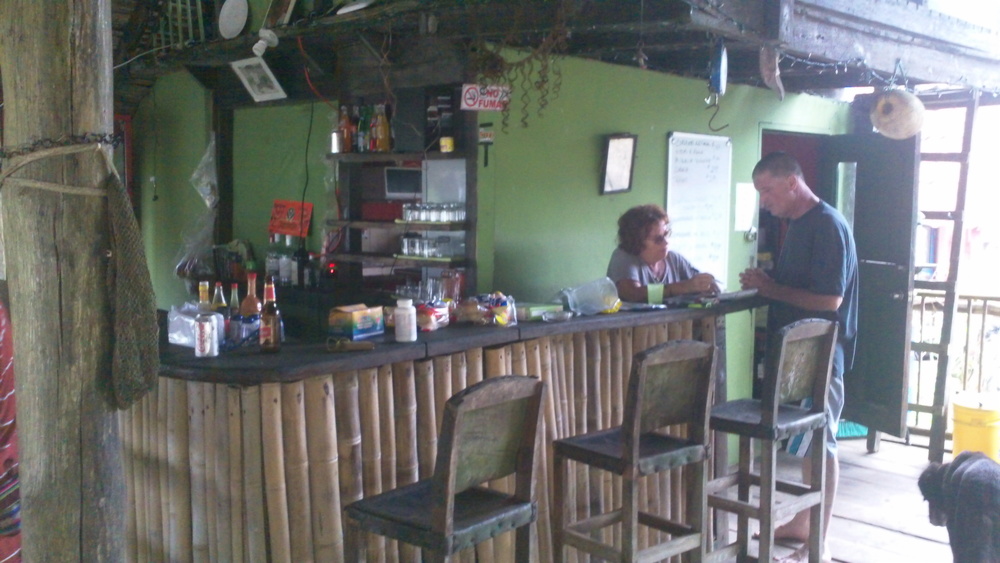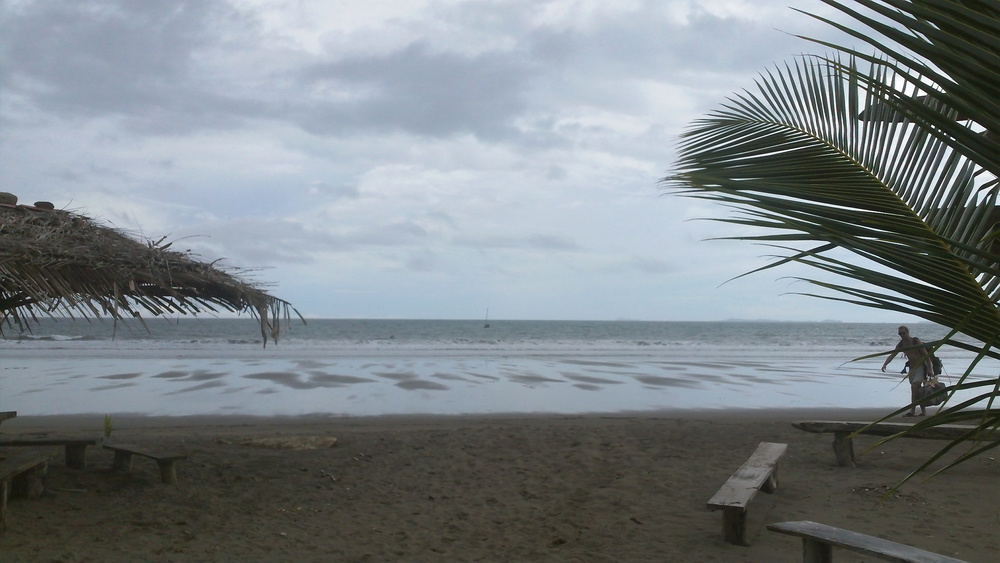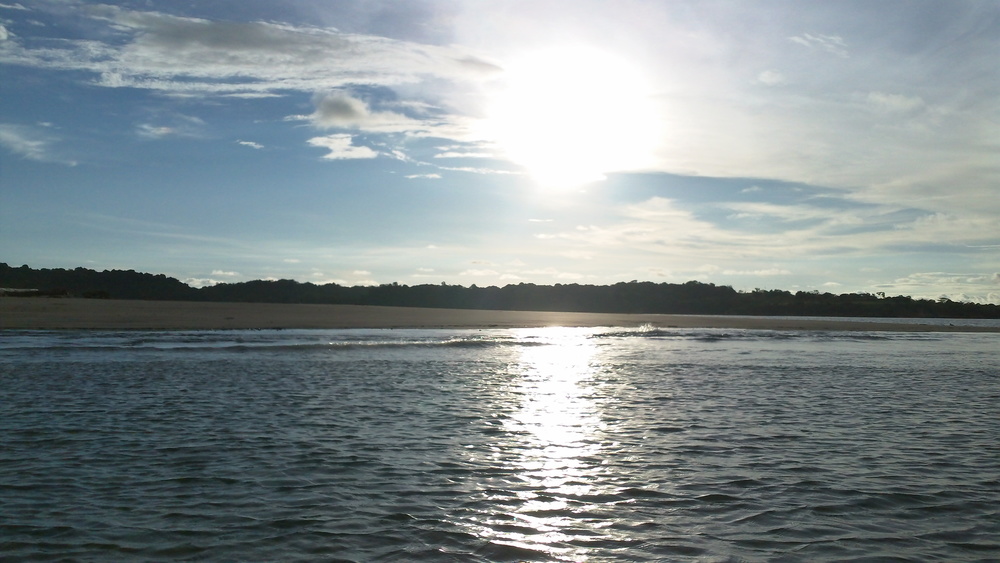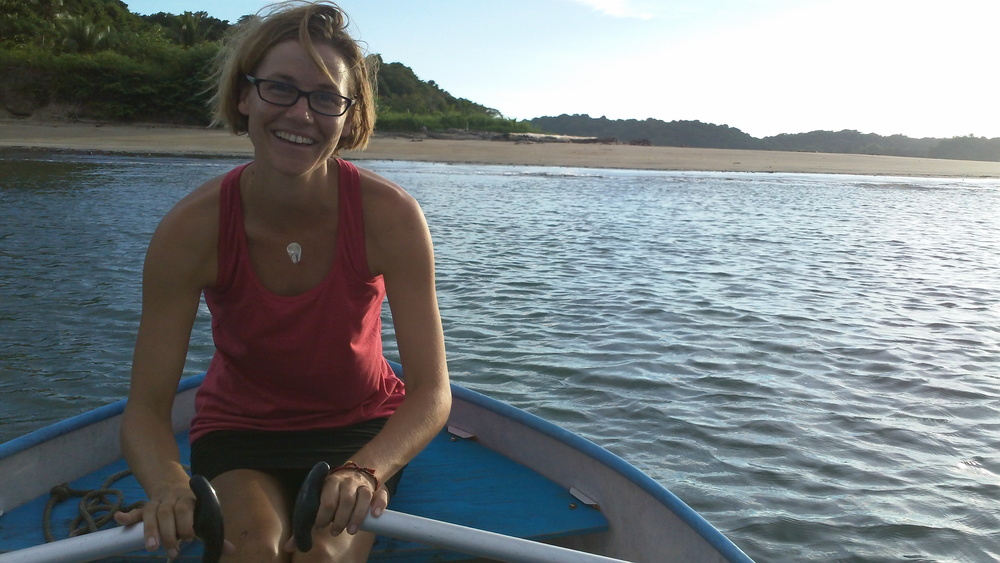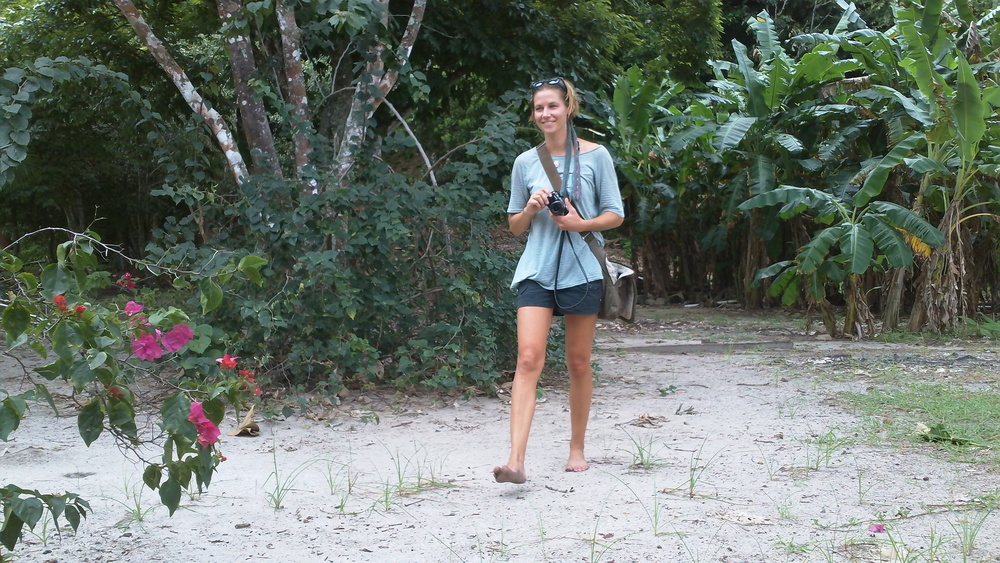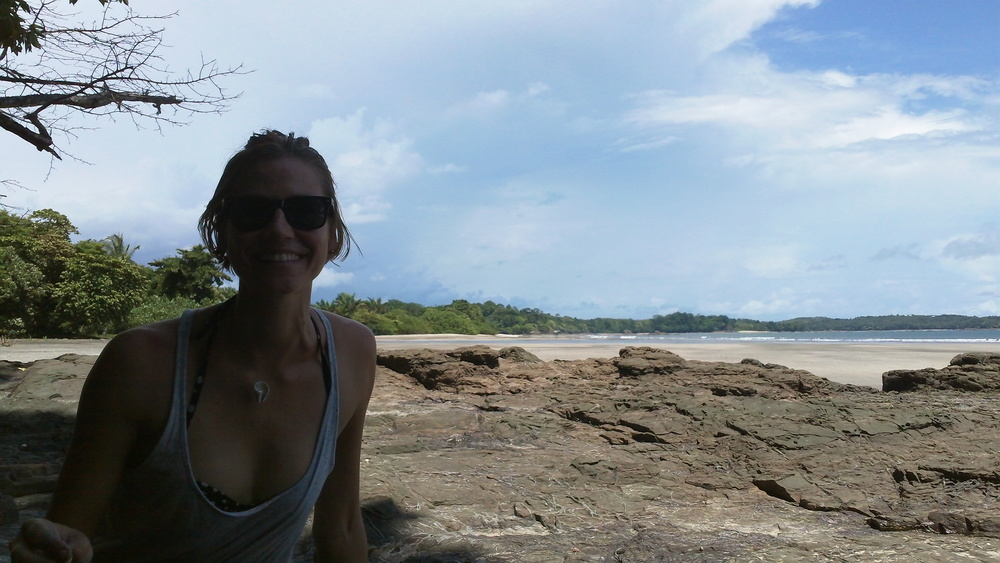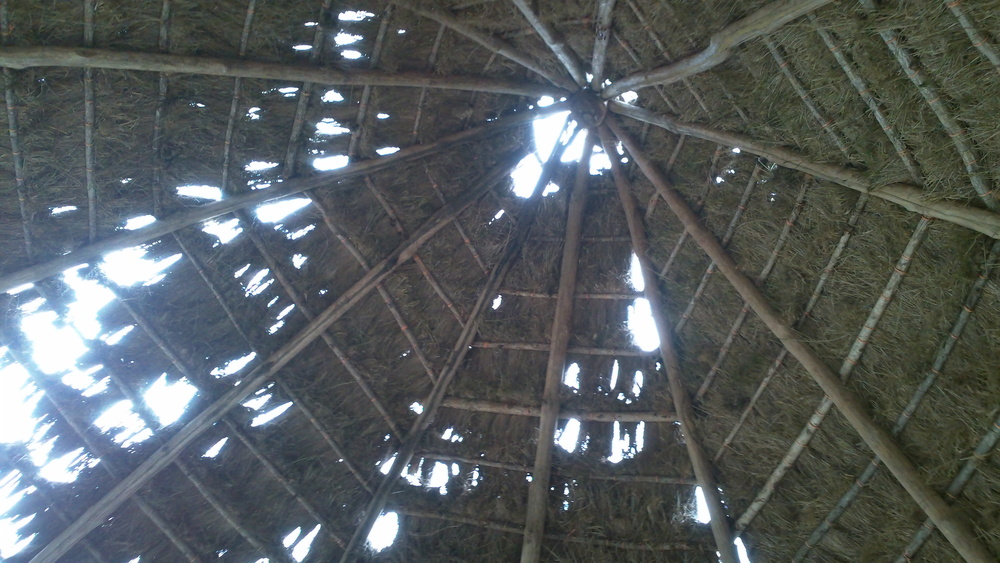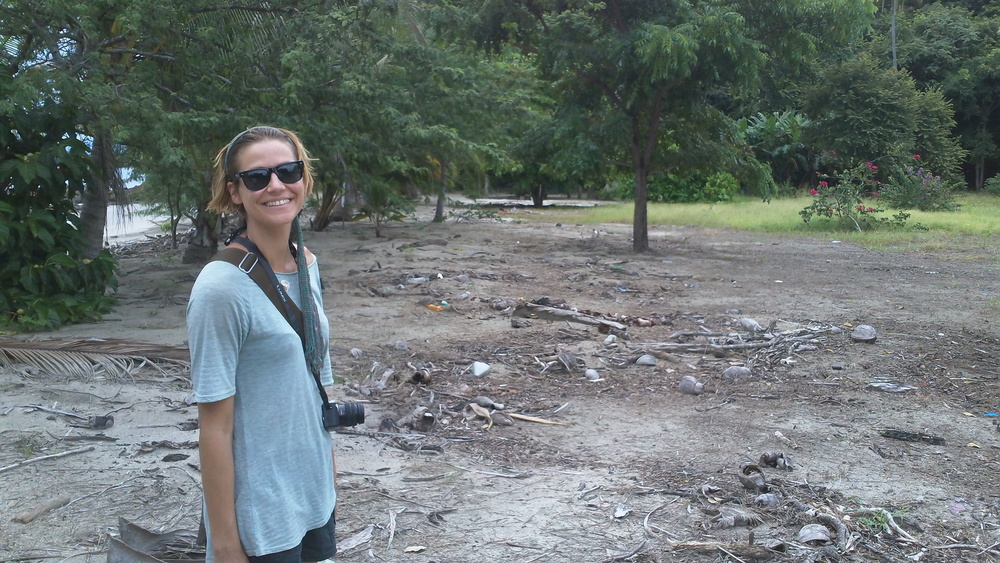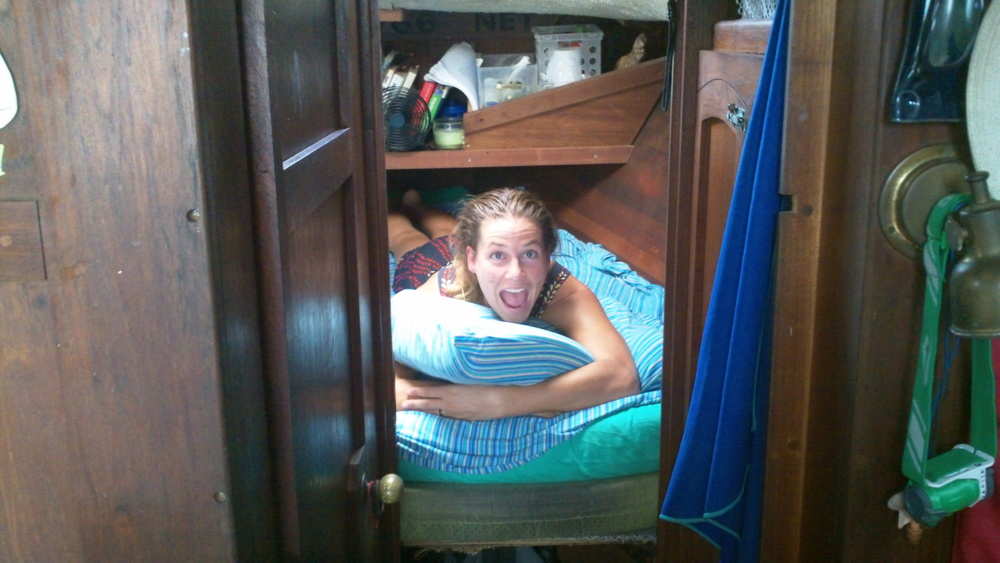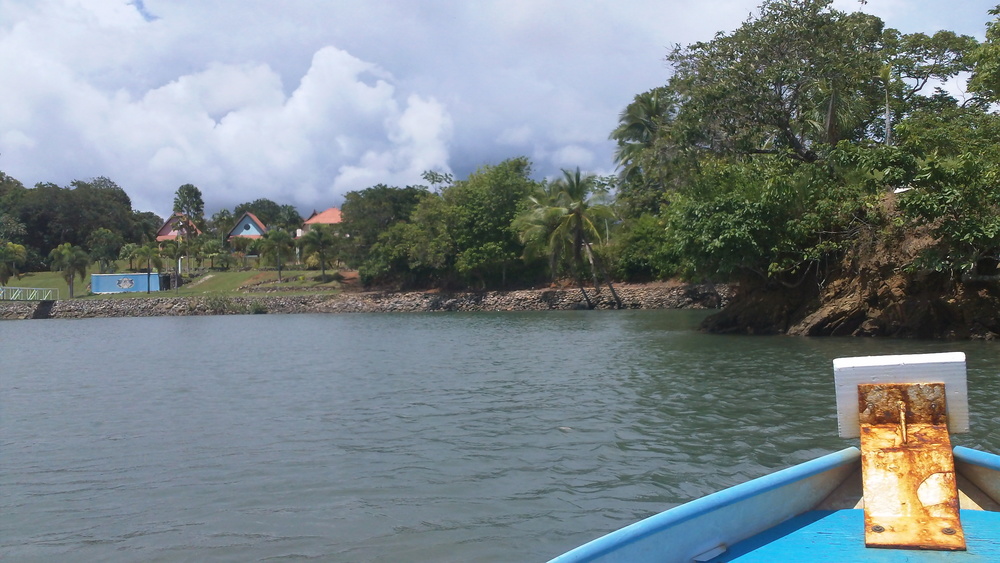 Day 4. Saturday. Halloween. It's a Northwest rain with solid light gray skies. The green jungle trees outside the hatch look textured by the white noise of falling water. The island we're anchored to belongs to a billionaire with celebrity friends, if that sort of thing excites you. Apparently Britney Spears walked around nearby Bahia Honda once, and there is good reason to believe that Mick Jagger has enjoyed the view. Not much is going on aboard Serenity this afternoon, which is a blessed break in the activity of the past week. The trip home has started.
On Sunday morning, over coffee Harmony and I played a little thought game: "What if we just left now?" This was the day after we returned from a week on our friend Colin's boat, El Vagabundo, crossing the Panama Canal and sailing to the nearest Caribbean island we could find. Colin's new season started off with a burst of excitement, as well as the mushing of six people and a canal pilot into a 31-foot boat like gummi bears in a hot plastic bag. Back on our own boat, with the end of rainy season still technically a month off in Panama but soon to return to storm-free conditions in Mexico, we were feeling the itch to start our move.
Of course, "leaving now" isn't so easy when you've spent six months making a place home. One of the things about being boat people that helps make this easier is that we're expected to push off again and drift away when the weather is right. We expect as much ourselves when we arrive in a new port, and it colors your approach when you know you can't make any promises. In the case of Boca Chica, however, we had made an exception. We had settled in. We had met friends. We had let ourselves become known. How now to say goodbye?
It's a long and not terribly interesting story unless you were in it, so it'll suffice to say that we did the best we could do within a three-day window, then we tore off the band-aid and left on the high tide. Boca Chica no more. We decided to take one last spin along the western Panama coast to Puerto Mutis for our final check-out from the country. After that, weather depending, we aim to sail a straight shot to Mexico from a vantage point somewhere over the horizon.
First stop: take one guess. Isla Gamez! Harmony hadn't been here in a few months, so she wanted to make time for this goodbye as well. We took one last excursion to the soft beach and trekked as far as we dared into the overgrown jungle forest. In the morning we got a visit from Carlos, then had an impromptu brunch with a small, crowded Aeronaval boat that came by for their routine inspection. I think this makes number six in Panama? Most of them have been here at Gamez, but it's almost always been a different boat full of different men. We made coffee for all the guys, and one of them put together a tuna platter with crackers that he shared with the others and with us. Onboard, we had three guests: the question asker, the poor paperwork filler outer guy, and a guy who at first seemed like a floater until he used his limited but adequate English skill to ask if he could make a visual inspection of the interior. I invited him down and took note as he swiveled his head around to survey the colorful chaos and wonder what in the world he was supposed to look for. Eventually he settled for peering inside the hanging locker ("They always go straight for the underwear drawer" – Harmony) and checking to see that we did in fact have an engine under the stairs. After this he seemed satisfied and gave me a smile before climbing back out to the shaded cockpit. The talker seemed focused on ensuring that our boat was generally boat-like and able to communicate via numerous options in the event of a problem. He also took the opportunity to stress how important it was that we replace our Panamanian courtesy flag, which had blown off the yardarm during a violent wind last season. I had no idea that courtesy flags were taken so seriously, but we swore to comply once we got to Santiago where they sold litits flags.
"Where are you going next in Panama?" he asked.
"We think we'll go to Las Lajas to visit our friends on the way to Puerto Mutis."
"Big waves at Las Lajas," he said shaking his head, and when he looked at another older man on the navy boat he shook his head also. "That is not a calm place to be. We do not advise it."
Sigh, okay Dad. "Possibly we will change our minds if the weather is bad, but we will see what we find when we get there." This seemed to adequately satisfy him.
Eventually they left and we decided we ought to head off too. We made a quick stop at Isla Parida to say goodbye to the rest of the family living out there, then we motored smoothly out of the bay and into the open water along the coast, headed east. Harmony asked, "What do you think about the Navy guy's advice?" "We won't stay the night, but I'm not too worried about anchoring out and swimming in past the breakers," I replied. She nodded her head in agreement, then said, "I wonder about swimming back out though."
It was already after lunch, and Lajas was over 30 miles away, so we decided to lay up short at Isla Venado, a place we'd never stopped before but looked like it may be interesting. We found a shallow and acceptably rolly spot off the north end of the island and hopped in the dinghy for a half-mile row to an exposed sand spit backed by progressively thicker foliage. We beach combed for a while before following an arroyo with a stream up into the understory. The forest floor was shadowy and spacious under the jungle canopy, and I watched a bat fly circles above us. The air was alive with bird calls and the croaking of frogs. When we returned to the beach, it had entered the magic hour before sunset. This sent Harmony into a flurry of photographic ecstasy, and after the sun set we returned home to feed the cat and wind down over dinner – ceviche made from a Sierra we caught on the way here and a handful of limes that Carlos gave us.
Day three we sailed close to the coast toward Las Lajas. In the morning sunlight a line of bright red rock cliffs stretched for only a few miles before disappearing beneath a line of jungle trees crowding the shore. We got within a half mile of the beach at Lajas before the rolling swell grew into low hills like you'd see on the roadside, then we spun the boat around and set the anchor. We packed a smaller anchor into the dinghy, readied a go bag, and rowed to a spot just outside the breakers. This beach is a known feature to the surfing community because its waves have garnered respect. There was no way we were surfing a floppy folding dinghy down an eight foot breaking wave. Phase three of our shoreside excursion, then was to jump overboard with a long tubular inflated dry bag and a boogie board and go for the SEAL landing. It went okay.
We spent the afternoon socializing with Mary and Perry – our final, final goodbye – and in the late afternoon finally decided we couldn't wait any longer before braving the swim back to the dinghy. It went less okay. The boogie board toe out of both of our grips as we dove under the tall breakers, until finally we decided to just let it surf back to Mary and Perry watching on the beach.
I was exhausted when I finally crested the last breaking wave and caught hold of the dinghy, but we powered through and got back to Serenity to find her bucking and rolling violently from side to side. Somehow we had gotten sideways to the rollers, and stuff was flying everywhere inside. It was a good test of our netting systems before our big push out to sea. For this night, we still had 20 miles to go before we reached a calm anchorage. The wind was fresh and stiff, and we were making over five knots under full sail. Much like my solo trip from September, clouds began to stack and combine behind us, and inevitably the flashes began. Before long it was raining buckets, but our destination was within sight. We dropped anchor in a calm bay at Isla Brincanco, very happy to be done for the day.
Our final stops before reaching Mutis were Isla Medidor where this post began, Santa Catalina where we meet a surfer/sailor and beach-combed at the island across from town, and Isla Leones, population 80, where we took a much needed walk to stretch the legs and bought some duros (their interpretation of a frontier Popsicle). Finally we one again navigated the shallow sand bars into the funky little river trading post we come to know and love. It's time to prepare for the big one!